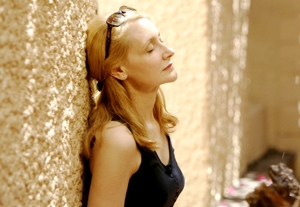 In just under ninety minutes, "
Cairo Time
" conveys the languid feel of hot Egyptian evening.  You can easily imagine yourself with these characters—sipping coffee and smoking hookahs, boating on the Nile, walking through cacophonous markets and quiet temples.  And while Ruba Nadda's film is marketed as a romance with the exotic Egyptian capital, in reality the film is the quiet and complex unfolding of romance between two adults.
Juliette (
Patricia Clarkson
) travels to Cairo to vacation with her husband Mark (Tom McCamus), who works for the UN in nearby Gaza. When Mark's work delays him, Juliette is picked up at the airport by Tareq (
Alexander Siddig
), her husband's former colleague. 
At first Juliette finds herself alone in the unbearably hot and strange city.  After a few distressing experiences, she befriends Tareq as well as a fellow expatriate, Kathryn (Elena Anaya). With each of them Juliette explores Cairo and surrounding areas, from its dusty streets and tiny cafes to icons like the Pyramids, Nile River, and the White Desert. She becomes entranced by the beauty of the region. But on a trip to Gaza she also sees the difficult realities, when her bus is detained and she is forced to return to Cairo.
Over time she relaxes, and she and Tareq get to know each other.  Tareq runs into his childhood love Yasmeen (Amina Annabi), who invites him and Juliette to her daughter's wedding. The two become close, but instead of the heat of young love, the two share a deepening companionship and understanding.
Though slow-moving at the start, once you become accustomed to the pace the film's charms start to work on you. The plot proceeds as you might expect, with few twists or surprises. But similar to Richard Linklater's "Before Sunset," the quality of the acting and the storytelling allows it to unfold organically, so the relationship between Juliette and Tareq feels natural.
Besides the beauty of Cairo, the film's main strength is the quietness of the performances. Clarkson and Siddig bring a warmth and gentle grace to their characters, and you can see both their growing attraction and the competing loyalties each has preventing their romance.
Written and Directed by Ruba Nadda
Produced by Daniel Iron
Starring: Patricia Carlson, Alexander Siddig, Elena Anaya, Amina Annabi, Tom McCamus