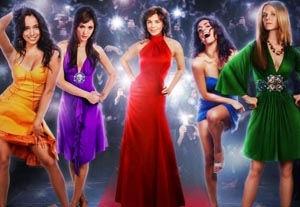 Writer-director Issa López's film (based on an idea by Ignacio Darnaude) tells the story of four feisty Mexican women who enter a national competition to win a starring role in a major motion picture based on a popular Mexican soap opera. They are the innocent Francisca (Maya Zapata), an Indian from an isolated mountain town; Ximena (Ana Layevska), the wealthy, overindulged daughter of a banker; Catalina (Diana Garcia), a tough, intelligent young woman from a corrupt and violent border town; and Yesenia (Daniela Schmidt), a flamboyant hairdresser from a rundown section of Mexico City who has her own dark secret. Fueled by ambition, each woman sees winning the contest as escape and vindication. Throw into the mix the sleazy producer (Julio Bracho) of the competition, film, and soap; and his on-and-off lover, the temperamental, over-the-hill soap star (Patricia Llaca), who is in a dithering rage because she is being displaced.
It's an entertaining flick that works on several levels, not least the comic, absurd, and always desperate drive of the contestants, as well as the national frenzy the competition evokes. It also pays homage to—some might say sends up—the steamy, overacting aesthetic of Mexican daytime drama. Not coincidentally, the competition itself becomes an overwrought soap. But in the end, "Casi Divas" is a rite-of-passage story, recounting the journeys of four contestants, each of whom learns, in varying degrees, important life lessons.
All the performances are enjoyable, though not equally believable. Zapata brings freshness and sensitivity to the determined outsider who is marginalized by class and ethnicity. Garcia is also quite good as a bright young woman on the cusp of political awakening. Bracho does a nice job as the high-living, lowlife producer who despite himself has moments of compassion. Layevska tackles with gusto a spoiled princess of a girl who views the competition as a way of getting even with those who laughed at her when she was pudgy; although given her background, it's hard to fathom that Ximena would participate in a contest of this kind. Similarly, while it's fun to watch Schmidt as the hairdresser, the performance wears thin; same problem for Llaca as the high-maintenance soap star.
Stereotypes and too much crammed into one picture mar "Casi Divas," which nonetheless offers an engaging peek into the world of Mexican entertainment and its followers.
Genre: Comedy/Drama.
Written by: Issa López from an idea by Ignacio Darnaude.
Directed by: Issa López. Starring: Patricia Llaca, Julio Bracho, Maya Zapata, Ana Layevska, Diana Garcia, Daniela Schmidt.