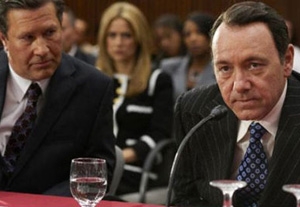 Film biographies are tricky. Narrative drive, structure, theme, and character development must function as they would in any good fictional feature. "Casino Jack" undoubtedly has a fascinating and contradictory real life anti-hero as its centerpiece: the stunningly corrupt lobbyist Jack Abramoff (Kevin Spacey), who was also a family man and genuinely religious. "Casino Jack" recounts Abramoff and business partner Michael Scanlon's (Barry Pepper) over-the-top misadventures as they forge an empire of wealth and influence in Washington, D.C.'s, halls of power. Along the way, the pair engage a small-time mobster (Jon Lovitz) and find themselves enmeshed in headline-making scandals and murder. But, in the end, the ruthless, ambitious, and savagely competitive Abramoff is also a tad pathetic.
Spacey is a splendid actor, but he is wildly miscast as the larger-than-life Abramoff. His portrayal feels almost reticent, and none of the character's conflicting elements are fully realized. Indeed, Spacey seems slightly uncomfortable throughout, as if he doesn't know why he's there. Pepper fares much better as the greedy, fully self-empowered Scanlon, who lives on the edge with bravado and has no fear of consequences, yet is transformed into a sniveling coward when the game is up.
Kelly Preston and Rachelle Lefevre do nicely as, respectively, the loyal Mrs. Abramoff and Scanlon's girlfriend, who becomes the classic woman scorned. In a jealous rage, said girlfriend betrays Scanlon, and her revenge is more than sweet—it's joyful. Spencer Garrett is appropriately creepy and sanctimonious as Tom DeLay, a born-again Christian and former House majority leader convicted of money laundering. Lovitz is impeccable as a sleazy, low-IQ thug. He is so good in the part, the casting is almost cruel. A special note must be made of the late Maury Chaykin's Big Tony, a matter-of-fact murderer. In a scene with his intended victim, he is at once conversational and menacing, playful and brutal. It is a classy performance, characterized by understated elegance. He is on the screen only a few moments, but they are memorable.
Still, the fine supporting cast—coupled with Norman Snider's engaging screenplay—cannot make up for the lack of a charismatic and cohesive central performance. What was director George Hickenlooper thinking? This film, which should have been gripping, is at best ho-hum.
Genre: Drama
Written by: Norman Snider
Directed by: George Hickenlooper
Starring: Kevin Spacey, Barry Pepper, Kelly Preston, Jon Lovitz, Rachelle Lefevre, Maury Chaykin.