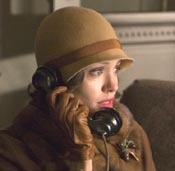 In her personal life, Angelina Jolie may be the most famous mother in the world, but now she's carrying that over into her cinematic life as well. Following her wrenching portrayal of the pregnant Mariane Pearl in last year's A Mighty Heart, she stars in Changeling, in which she plays a Prohibition-era mother whose young son vanishes, only to be returned by police five months later in the form of another boy claiming to belong to her. This true-life L.A. crime story is one of those incredulous tales that would be hard to believe if it hadn't been fully documented.
In the hands of director Clint Eastwood, the film not only explores the dark side of 9-year-old Walter's mysterious disappearance but also exposes the corruption rampant in the LAPD of 1928. With enormous public and political pressure to get a break in the case, the police buy into a young drifter kid's story that he is the missing boy and arrange a reunion with the mother, Christine Collins (Jolie). In her heart she is convinced he's not her son, but the police maintain he is, leading her into a nightmarish journey to discover the truth.
At first hysterical and distraught, later determined and unflappable, Jolie delivers a no-holds-barred portrait of a woman manipulated by police and city officials out to save their own jobs in an election year. Outfitted to match photos from the period, Jolie goes way beneath the surface to show us a mother's angst in a horrifying situation.
As the community activist who helps her fight the city, John Malkovich is convincing and sympathetic. Also of note in the large supporting cast are Jeffrey Donovan as the narrow-minded, bullying head of the LAPD's juvenile division; Colm Feore as the head of the corrupt department; and Michael Kelly as the one noble detective working on the case. Amy Ryan is also solid as a fellow inmate who helps Christine when she is locked down in a mental ward. There are also fine performances from several juvenile actors, including Gattlin Griffith as Walter and Devon Conti as Arthur Hutchens, Walter's impersonator; Eddie Alderson turns in particularly memorable work as a young man who leads police to a grisly crime scene. Going a little bit over the top is Jason Butler Harner as Gordon Northcott, a serial killer connected to the case.
With fascinating subject matter, Eastwood's impressively restrained direction, and a sterling lead in Jolie, Changeling is terrific entertainment for mature audiences.
Genre: Drama. Written by: J. Michael Straczynski.
Directed by: Clint Eastwood. Starring: Angelina Jolie,
John Malkovich, Jeffrey Donovan, Jason Butler Harner, Michael Kelly, Amy Ryan.