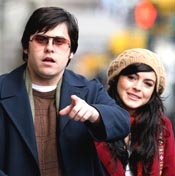 "I always knew I was going to do something really big," a virtually unrecognizable Jared Leto says in Mark David Chapman's scratchy Southern whisper. "I just didn't know if it would be good or bad." Based on the three days Chapman spent staking out the Dakota apartment building in New York to kill beloved purveyor of peace John Lennon, Chapter 27 likens itself to the nonexistent final chapter of J.D. Salinger's 26-chapter The Catcher in the Rye — in which Chapman wrote, "This is my statement," in explanation for murdering the former Beatle on Dec. 8, 1980. Ultimately, the film makes no more sense of a senseless crime.
No one can accuse Leto of having a lack of self-discipline or ambition. Tackling his most challenging role yet, after playing a skeletal junkie in 2000's Requiem for a Dream and the eponymous real-life runner in 1997's Prefontaine, Leto sinks his teeth into the notorious Chapman with his signature intensity. Leto, who also receives an executive-producer credit on the film, gained nearly 70 pounds for the role and wound up dealing with gout when he had to immediately lose the weight for another project. Unfortunately for Leto's taste for vanity projects, the story is as thin as Chapman is fat. There's just nothing extraordinary about the murderer the surviving Beatles still refer to as "the man whose name must never be mentioned," whom Lennon's widow, Yoko Ono, calls "the subject."
As the film unfolds at a slovenly pace, Leto's Chapman mouth-breathes through every frame and manages to simultaneously bore and creep out every person he comes in contact with, from doormen to fellow fans to cab drivers. Two such characters are played by Lindsay Lohan and Judah Friedlander. Here, Friedlander dons his standup-comedy armor to play the real-life photographer who tussles with and later snaps a picture of Chapman getting a record autographed by Lennon just before the assassination. Lohan is adequate as aptly named Jude, a fan so conveniently connected she's pals with Lennon's personal assistant, son, and nanny. One wonders if she was but a figment of Chapman's obsessive and delusional imagination. There's just not enough chemistry between Leto and Lohan to explain why Jude would accept Chapman's one awkward lunch invitation.
The rare audience member seeking any shred of sympathy and understanding in Leto's portrayal will leave the theatre angry and baffled at the existence of a film that puts an undeserved spotlight on one of the world's most loathed criminals. Even 27 years later, it still seems too soon. Chapman is so boring he spends the time not engaged in stalking Lennon "disappearing into the ink" of Catcher by re-creating moments from its main character's three-day escapade in Manhattan.
Leto does what he can with the role. It must be a challenge for an actor to find his motivation playing a "Nowhere Man" who had no fascinating or logical motivation for bringing such a violent end to a peaceful musician. The film is much like the crime: a big, sad waste.