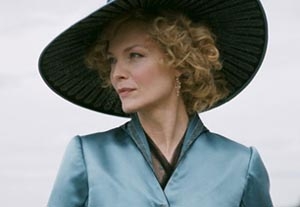 The enormously talented triad of actor Michelle Pfeiffer, director Stephen Frears, and writer Christopher Hampton, who teamed so memorably two decades ago in
Dangerous Liaisons
, are back in period mode with the modestly engaging but deliciously acted
Cheri
. It's the story of a beautiful Parisian courtesan, Lea de Lonval (Michelle Pfeiffer), who takes up with Cheri (Rupert Friend), the naive but handsome 19-year-old son of her archrival, and finds surprising love.
Sure, the story (based on the Colette novels
Cheri
and
The Last of Cheri
) is but a mere trifle, but in this case the witty dialogue delivered by actors at the top of their game makes it worthwhile. But with such impressive production values and terrific casting, you might hope that maybe the whole experience would be more substantial than biting into cotton candy—but it still stands out as a worthy adult alternative to
Transformers
and Hogwarts this summer.
The premise amuses: The aging but still gorgeous Lea decides to retire as Paris' leading seductress of the super rich, when into her life comes Cheri, the ne'er-do-well son of Charlotte Peloux (Kathy Bates), a devious gossip who decides Lea may be the one who can change her son's devilish ways. What no one saw coming was a years-long affair between the two that causes Peloux to try breaking it up by introducing Cheri to a girl his own age. The resulting events are alternately eye-popping, quite funny, and even touching.
Holding this slight concoction up and proving she still has the joie de vivre of a great movie star is the 50-something Pfeiffer, who is smart enough to latch on to a role she could do in her sleep but fortunately adds just the right touches to make it original and memorable. It's increasingly rare to see plum romantic parts like this offered to women over 50 (unless your name is Meryl), and Frears should be applauded for matching Pfeiffer with Lea de Lonval. It's clearly a match made in movie heaven and the prime reason for plopping down $12 to see this breezy, less-than-90-minute affair. Although she could clearly carry this on her own, Pfeiffer is splendidly matched by Friend, who brings just the right amount of impishness and disarming charm to the title role. You believe that these two really could have a relationship, and that's key. Part of the joy is the turning of tables on the usual Hollywood romances where older women rarely get the hot young guys.
Fitting seamlessly into the proceedings, Bates is deliciously cunning and lively as the nemesis who plots to break up the couple she brought together in the first place. As the girl Charlotte uses for that mission, Felicity Jones is lovely and always watchable in her few scenes.
Cheri
is not going to be something you remember long after leaving the theatre, but it's got Pfeiffer back in a substantial leading role, in glorious clothes and great form—and that's something worth savoring this summer.
Genre: Comedy
Written by: Christopher Hampton
Directed by: Stephen Frears
Starring: Michelle Pfeiffer, Rupert Friend, Kathy Bates, Felicity Jones, Harriet Walter