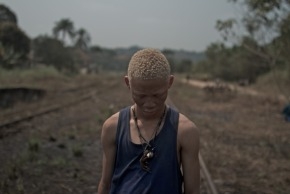 There are stories we want to be told, and stories we don't want to be told, but end up the better for them. And then there's "War Witch."
Nominated for an Oscar for Best Foreign Language Film, "War Witch" takes us deep into the African jungles to see the indoctrination of child soldiers. This terror tale, filmed with an unemotional journalistic eye by writer-director Kim Nguyen, is more chilling than Wes Craven's worst nightmare. It's an extremely well-made, absolutely horrible story.
While destroying a small village, rebel soldiers force 12-year-old Komona (Rachel Mwanza) to massacre her family with a semi-automatic before abducting her into a brutal boot camp for child soldiers. We've all seen photos of African children toting firearms, but the narrative's unwavering realism puts a blurry concept from a distant land into hi-def, big screen, stereophonic focus. "War Witch" presents a bloodthirsty worldview that calculatedly corrupts youth, turning little boys into slaughterers of men and little girls into less-than-human possessions.
Komona's warlord master dubs her "war witch" because of her ability to sense enemy location and evade death. She is also haunted by the specters of the dead, most notably her slain parents, who appear as graceful figures covered in white dust. Far from being frightening, the ghosts offer Komona a serene mental sanctuary from the turmoil of her reality.
During training, adolescent romance blooms with a young teen named Magician (Serge Kanyinda), believed to have voodoo powers. A courting sequence (including a trip to a "black" albino commune, one of the more surreal sights ever filmed) tries to shoehorn in light-hearted humorous relief. Nguyen can't make us recover from the disparity we've endured.
Mwanza and Kanyinda's raw performances go beyond kids playing war. Their young eyes belie innocence long destroyed by a life of bloodshed, toughened into steely resolve. These children neither beg for our pity nor suffer in weary resignation. This is the world as they understand it, and we are demanded to accept it or turn away.
Acceptance is difficult. Nguyen wants to make us squirm. He manipulates violent, gory situations well beyond the point of normal human endurance. For instance, Komona's solution to deter a rapist involves a razor, resulting in a scene I deeply wish I had never experienced. We all-too-effectively feel the mental torture that permanently damages these children. Watching it is spiritual masochism.
I spent most of this film cowering in my seat and shielding my eyes. There are stories that we desperately do not want to be told, that are so disturbing we will blind ourselves to preserve our perpetually limited understanding of the vast scope of human nature. In the case of "War Witch," ignorance is bliss.
Critic's Score: B
Directed by Kim Nguyen
Casting by Josa Maule, Kiripi Katembo Siku
Starring Rachel Mwanza, Serge Kanyinda, Alain Bastien, Mizinga Mwinga