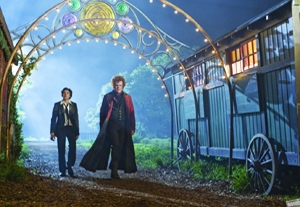 "Cirque du Freak: The Vampire's Assistant" is so relentlessly dull, one forgets it while watching it. Based on the "Cirque du Freak" series of books by Darren Shan, the film ploddingly recounts Darren's (Chris Massoglia) fantasy adventure as he enters a nightmare world of sideshow freaks and predawn grotesques. These include Madame Truska, a bearded lady (Salma Hayek); Corma Limbs, whose limbs can be chopped off and then promptly grow back (Jane Krakowski); a Snake Boy (Patrick Fugit); and an oversized—indeed, humongous—barker (Ken Watanabe). There are also Darren's love interest, the prehensile-tailed Rebecca (Jessica Carlson), and his best buddy who is no buddy at all (John Hutcherson). Throw into the mix warring vampires: a good-guy vampire (John C. Reilly) and his archenemy, the corpulent Mr. Tiny (Michael Cerveris), who is the manipulative leader of the bad vampires, dubbed the "vampaneze." Among the film's lofty themes: the freak's humanity, the ordinary person's freakishness, and the nature of free will. Boring and pretentious, a lethal combination.
Still, the acting is acceptable enough. Reilly does a nice job as the 220-year-old vampire who has, well, been around the block a few times. He is cynical yet has a certain charm and vulnerability. Hayek also is convincing as a hirsute woman suffering from unrequited love; Krakowski is enjoyable to watch as the circus lady with strange regenerative powers; Massoglia is fine as a youngster torn between impulse and morality; and Hutcherson is especially good as the nasty kid. But the film's visual component is its high point, specifically, its special effects and makeup. Particularly admirable are Willem Dafoe's Salvador Dali look and Cerveris costumed to evoke a tub of lard.
"The Vampire's Assistant" might conceivably have a cult following. But for this viewer, it can't disappear too soon.
Genre: Drama
Written by: Paul Weitz and Brian Helgeland
Directed by: Paul Weitz
Starring: John C. Reilly, Josh Hutcherson, Chris Massoglia, Michael Cerveris, Salma Hayek, Jane Krakowski