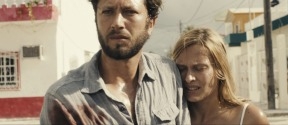 Poor mommy-to-be Beth (Vinessa Shaw)! Any flick that begins with a fully pregnant woman stranded in an eerily deserted village on a South American isle doesn't bode well. In the self-important thrillfest "Come Out and Play," she and her baby daddy Francis (Ebon Moss-Bachrach) wind up on a remote island for a South American getaway, only to find the ramshackle beach town festering with pockets of creepy kids and nary an adult in sight.
Can you guess who's bumping off the grown-ups?
Based on the book "El Juego de los niños" ("The Children's Game") by Juan José Plans and a remake of the 1976 Spanish film "Who Can Kill a Child?," this update dispenses with the social commentary about war's effects on children to go for straight-up horror. One-on-one, the kiddies are intense but harmless. As soon as they form a group, however, their appetite for brutality is straight out of zombieville.
A creepy sheen heavily covers the film, delivered by first-time, single-moniker director Makinov. As a curious side note, Makinov's identity is unknown: He only appears publicly wearing a murderer's red hood, supposedly even while directing. One suspects the actors' look of perpetual fear had nothing to do with craft and all to do with being directed by a faceless Belarusian in a mask.
Makinov—dramatically announcing himself on the screen with large bold letters as if he were more established than Kubrick—models his chiller on atmospheric slow-moving horror mysteries of the late '60s and early '70s, such as "Rosemary's Baby" and "The Stepford Wives," with a nod to "Night of the Living Dead." Polanski-esque shots through doorways and around corners keep the grim reality just out of view, yet ever lurking. Makinov pulls out some old trick to build unbearable tension, such as long empty hallways in abandoned buildings.
As the expectant young couple, Shaw and Moss-Bachrach stir up the chemistry of a couple whose spark has dimmed to a comfortable familiarity. Moss-Bachrach leads what's essentially a three-character drama—husband, wife, and a gang of killer kids—as a man who learns to runs on sweaty instinct to protect his wife and unborn child.
The film's twist lies in the inability of adults to murder children, even those who viciously kill. Considering the surreal shots of these third-world youngsters gleefully indulging their basest instincts, the ethical dilemma is short-lived. When the grown-ups start rolling up their sleeves with the children, whose behavior grows increasingly demented, the merriment spins to the heights of the macabre.
It takes too long for the fun to start, however, and it tips precariously into dated corniness. The whole ends up like a stylish, small town curio show with big city aspirations.
Critic's Score: B+
Directed by Makinov
Starring Vinessa Shaw, Ebon Moss-Bachrach