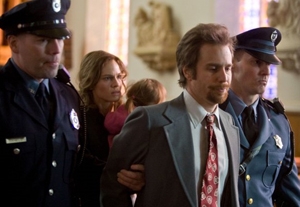 We like to think we would do anything for our loved ones. And we probably would, but perhaps it is best if we're never called upon to prove the extent of our love and devotion. When Betty Anne Waters' brother Kenny is accused and convicted of a gruesome murder, she feels helpless to do more than believe beyond a doubt that he is innocent. But she resolutely decides to fight for his release and clear his name. So the high school dropout spends 12 years becoming a lawyer, in an effort to earn respect for herself and perhaps freedom for her brother.
"Conviction" is the true story of the Waters siblings, portrayed with heart-wrenching realism by Hilary Swank and Sam Rockwell. The script is compelling, and the filmmaking enhances the power of this inspirational tale without being at all overbearing. The characters are shown to be flawed people, with doubts and weaknesses, and are all the more endearing for it.
At the heart of the story, and the film's effectiveness, lies the relationship between Betty Anne and Kenny. Swank and Rockwell have such strong chemistry—as do the talented Bailee Madison and Tobias Campbell, who play the siblings as children—that the love between their characters is tangible. It is entirely believable that Betty Anne would devote her life to acquitting her brother. Swank has rarely been in finer form, making her character's unyielding love for her brother, and her pain from his suffering, raw and wholly authentic. Rockwell is at least as captivating as Swank. He takes Kenny, who in clumsier hands could be either victim or monster, and crafts a multidimensional character who perfectly embodies the love, humor, anger, and doubt that swirl about him in the narrative.
The magnetic siblings are surrounded by a supporting cast that does full justice to the talents of the two leads. Melissa Leo is painfully effective as the cop determined to bring Kenny down. Minnie Driver delivers one of her best performances as Betty Anne's law-school comrade. Driver is charismatic and charming, bringing humor to a film that often finds itself on somber ground. Juliette Lewis also elicits quite a few laughs, stealing a scene near the end with a brilliant performance as a witness in Kenny's case. In all, every character is expertly brought to life. The film is an example of what extraordinary work can be achieved when one acts, in life or on film, with conviction.
Genre: Drama
Directed by Tony Goldwyn
Written by Pamela Gray
Starring Hilary Swank, Sam Rockwell, Melissa Leo, Minnie Driver