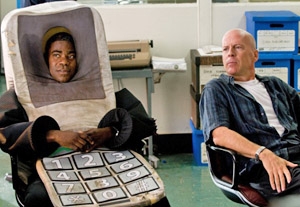 Directed by -- but, in a departure, not written by -- Kevin Smith, this Bruce Willis-Tracy Morgan matchup definitely has its amusing moments, but ultimately all that improvised shtick gets mighty tired without any real break in the nonaction.
Undemanding audiences simply looking for a few laughs, and fans of Smith's trademark laid-back "two dudes talking" approach to the throwback genre, should give Warner Bros. a decent opening weekend, but it probably will come up short on the long haul.
At one point known as "A Couple of Dicks," the title refers to a pair of longtime NYPD partners: the tough, cranky Jimmy Monroe (Willis) and the manic, movie dialogue-spouting Paul Hodges (Morgan).
They're theoretically on the trail of a notorious gang leader, but they're preoccupied with more pressing personal issues -- specifically the whereabouts of the stolen prized 1952 Andy Pafko baseball card that Monroe was planning to cash in to pay for his daughter's wedding and Hodges' obsessive suspicion that his wife is fooling around with the next-door neighbor.
The ensuing banter-thon has its comic payoff, especially in the first half, but all that gabbing with little nabbing begins taking its toll.
Willis and Morgan carry their weight, but they're handily upstaged every time a terrific Seann William Scott pops up as a goading, goofball jerk of a perp.
It's hard to tell how much of siblings Robb and Mark Cullen's deliberately derivative script remained intact once shooting began, but it's clear that action isn't Smith's forte, and the bits that have been inserted seem to be more about giving his cast a chance to catch its breath.
But though it fails to nail that winning comedy/action balance of a "Beverly Hills Cop" or "48 HRS." (or even a "Running Scared"), it's still sort of cool having composer Faltermeyer dust off the old synthesizer as Patti LaBelle conjures up some of that old "New Attitude" wailing the totally '80s-sounding "Soul Brother."
Opens: Friday, Feb. 26 (Warner Bros.)
Cast: Bruce Willis, Tracy Morgan, Adam Brody, Kevin Pollak, Seann William Scott
Director-editor: Kevin Smith
Screenwriters: Robb Cullen and Mark Cullen
Executive producers: Adam Siegel, Robb Cullen, Mark Cullen
Producers: Marc Platt, Polly Johnsen, Michael Tadross
Director of photography: David Klein
Production designer: Michael Shaw
Music: Harold Faltermeyer
Costume designer: Juliet Polcsa
Rated R, 113 minutes
– Nielsen Business Media