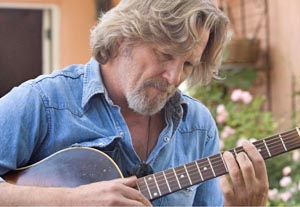 When you have a character named Bad Blake, the actor playing him had better be good. Fortunately for "Crazy Heart," Jeff Bridges is the actor and this is basically his one-man show. Of course, playing a down-and-out 57-year-old alcoholic country singer would be catnip to any thespian, but Bridges somehow makes this clichéd figure fresh and interesting, even when the movie, written and directed by newcomer Scott Cooper, surrenders to the predictable.
Bad Blake is pretty much washed up on the country circuit, drinking by day and night and playing joints he wouldn't bother with in his prime. He's haunted by his much brighter past ("I used to be somebody, now I'm somebody else"), he has a son he hasn't seen since said son was in diapers, and he has a bunch of exes in Texas—and everywhere else—and a complicated relationship with a successful young protégé, country star Tommy Sweet (where do they get these names?), played surprisingly well by Irishman Colin Farrell. The biggest comedown for Blake is when he gets a gig opening for Sweet. Things brighten up when a reporter (Maggie Gyllenhaal) comes calling to do a story on Blake and he turns the interview into an all-night affair. She's single with a young son but inexplicably falls hard for this unreliable, much older (by about three decades and countless miles of bad road) guy. Go figure.
Okay, we've seen this all before, and this down-on-his-luck-country-has-been routine even won an Oscar for Robert Duvall in "Tender Mercies." Duvall, perhaps not coincidentally, is a producer and co-star here, which is pretty heady company for Bridges to keep if he wants to own this role. But own it he does, and then some. Even in his worst movies, Bridges manages to escape unscathed. And when he's got a great part, there's no one better, as he proves here, immersing himself deep into the world of Bad Blake but never letting us see the acting. Walking off the stage in the middle of a set to throw up is something that could be overly melodramatic, but Bridges pulls it off effortlessly. And he does a sensational job singing T Bone Burnett's catchy countrified score, particularly on Blake's anthem, "The Weary Kind" (co-written with Ryan Bingham, who also appears in the film), a perfect marriage of character and song.
As Blake's love interest, Gyllenhaal is as good as she can be, but the role is a bit underwritten, and it's hard to imagine why this supposedly together and loving mom would want to be with this guy, short of being co-dependent à la Elisabeth Shue in "Leaving Las Vegas." Still, in Gyllenhaal's few scenes, she's a welcome presence, as always. Farrell is also good, though one wishes he too had more to do.
But "Crazy Heart" belongs solely to Bridges, who rolls over the troubled waters of this Nashville cat with grit and a lived-in soul looking for a way out and back.
Genre: Drama.
Written and directed by: Scott Cooper.
Starring: Jeff Bridges, Maggie Gyllenhaal, Robert Duvall, Colin Farrell, Ryan Bingham.