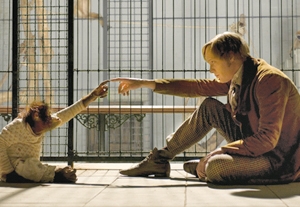 As a mid-19th-century family drama, "Creation" is certainly well done and has an element of interest. However, when the family in question is that of Charles Darwin, who is in the process of writing the "On the Origin of Species," the domestic conflicts almost seem trite. The story simply does not measure up to the magnitude of its subject. Darwin was, after all, a seminal figure whose iconic work became the foundation of evolutionary biology; 151 years after the work's publication, it continues to be a source of controversy.
Written by John Collee and directed by Jon Amiel, "Creation" is inspired by the book "Annie's Box," detailing Darwin's private and social struggles, written by Darwin's great-great-grandson Randal Keynes. Here, Darwin's major stumbling blocks are his wife's religious convictions and the death of his young daughter, for whom he hasn't fully grieved. But once he has talked about it with his no-longer-estranged wife—"closure" and "communication" à la 1859—he can get on with his work. "Creation" wants us to believe that Darwin and his wife were, whatever their conflicts, passionately in love; so much so that he allows her to decide whether he should submit his manuscript to a publisher. This may in fact have happened, but there is nothing in the movie that prepares the viewer for this shocking moment.
Paul Bettany's Darwin is a pleasant and intelligent man who is undoubtedly haunted by the death of his daughter and torn over the implications of his work. But the heft and complexity of the "Origin" author are not there. As Mrs. Darwin, Jennifer Connelly (Bettany's real-life wife) fares a little better evoking a devout woman who, despite herself, has progressive leanings. Newcomer Martha West playing Darwin's daughter is excellent as a bright, inquisitive child and later Daddy's companionable ghost who trails along with him. But the most impressive performance in the film is by Jeremy Northam as the local reverend, a good man and close friend of Darwin who nonetheless passionately opposes him.
Director of photography Jess Hall and location manager Jamie Lengyel provide wonderfully vivid beach scenes on the Northern coast of England. But in the end, a film that should pack an emotional wallop is regrettably ho-hum.
Genre: Drama. Written by: John Collee.
Directed by: Jon Amiel.
Starring: Paul Bettany, Jennifer Connelly, Martha West, Jeremy Northam.