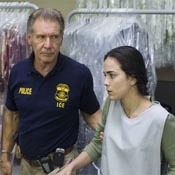 Clearly influenced by the critical, box office, and Oscar success of 2005's Crash, writer-director Wayne Kramer has crafted a multistory, intercultural ensemble piece that successfully deals with both sides of the hot-button issue of illegal immigration. Although the film doesn't work on every level, it's thoroughly engrossing, if at times a little too sleazy for its good. Nevertheless, it's nice to see a fine group of actors shine in a project that doesn't require any one star to carry it.
As an agent for Immigration and Customs Enforcement, Max Brogan (Harrison Ford) is a decent sort who must deal with the multitude of people trying to cross into the U.S. each year. There's also his partner (a very fine Cliff Curtis), an immigration attorney (Ashley Judd), and her husband, Cole (Ray Liotta), who acts as an applications manager. Intersecting with their lives are a group of hopeful would-be U.S. citizens -- among them a Mexican factory worker (Alice Braga), a British musician (Jim Sturgess), and the musician's girlfriend, Australian actor Claire (Alice Eve) -- each of whom has a story to tell.
The guiltiest pleasure of the bunch is the story line involving Eve, Sturgess, Liotta, and Judd: Each of their characters becomes the victim in a minor sex scandal when Cole agrees to put through Claire's green-card request only after personally "processing" her in an illicit affair. Eve's sly take on the wannabe who uses her body to stay in the U.S. to become an international star is raw Pussycat Doll sexuality. Also effective is a nice turn from Braga as a young mother who is desperately trying to stay with her son, and one from Summer Bishil as a young Bangladeshi girl devoted to the teachings of the Koran, a belief that is mistaken for terrorist activity.
Ford is splendid as a burnt-out agent who increasingly goes against the rules of the game, much to the consternation of his by-the-book co-workers. Although Ford is not an actor who takes lots of emotional turns, he's quite effective and touching as a career guy devoted to the ideals of his job even as it becomes hopelessly bureaucratic. Judd does not have as much to do in her attorney - scorned wife role but makes us empathize with her plight. As her wandering husband, Liotta is very good as a pathetic loser who risks his job and marriage for sex on demand with the conniving Claire.
Kramer's in-your-face directing style (previously on display in The Cooler) is kept in check here, but he keeps the parts moving along, sorting out the players and eventually merging everything into a whole. Crossing Over may not be Crash, but it's a close call.
Genre: Drama. Written and directed by: Wayne Kramer. Starring: Harrison Ford, Ray Liotta, Ashley Judd, Cliff Curtis, Alice Braga, Melody Khazae, Summer Bishil, Jim Sturgess, Alice Eve, Justin Chon.