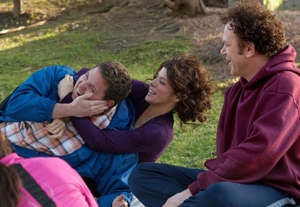 Known for their so-called mumblecore brand of filmmaking—low-budget flicks focusing on personal lives—writing-directing brothers Jay and Mark Duplass ("The Puffy Chair") have married their decidedly indie sensibilities with a more conventional comic style and a name cast in "Cyrus," a quirky and entertaining romantic comedy about a down-on-his-luck divorcé named John (John C. Reilly) who finally finds a woman to die for in the engaging and lively Molly (Marisa Tomei). Unfortunately, he soon learns there is severe baggage attached in the form of her 21-year-old New Age musician son Cyrus (Jonah Hill), who not only is joined at the hip to dear old mom but is not ready to sit around and watch anyone new come into her life without a struggle. The majority of the film centers on the battle for Molly's attention between John and Cyrus, who use all their wiles to get their way and make this highly unconventional relationship work.
The Duplass brothers have crafted a smart, if slight, nifty comedy that stands out as an oasis among the overbloated summer competition. Thanks to savvy distributor Fox Searchlight, the brothers are working with bigger names and a bigger budget than in their previous micro-movie efforts. The Duplass style remains untouched, right down to the shaky, sometimes-out-of-focus camerawork, which too often calls attention to itself and seems self-indulgent in an otherwise delightful charmer.
"Cyrus" is first and foremost an actor's dream. The whole thing feels improvised, and clearly much of it is. That's mumblecore. This shaky soufflé could easily fall apart; but with just the right actors, it never does. One reason is the inspired casting of Reilly, whose deadpan expressions and rubber face fit this lonely loser-in-love perfectly. His initial meeting with Molly at a party is one for the books, as he lets it all hang out much to the embarrassment of others present. It's perfectly believable that the free-spirited Molly would find his "act" charming and different, and there's immediate chemistry between the two, thanks in large part to the always wonderful Tomei, an actor with great instincts and the good sense to never play it over the top. Hill's presence—which, based on past films, may suggest a different kind of movie—is the revelation here. Hill drolly underplays the "unique" Cyrus and lights up the screen every time he's on. It's obvious from this outing that Hill is a far more fully dimensional comic talent than he gets to show in some of his more commercial projects. Although the film centers on three characters, there are nice, warm bits with Catherine Keener as John's ex and Matt Walsh as her fiancé, who get the ball rolling when they invite John to the party at which he meets Molly. It's not one of Keener's meatier roles, but is this actor capable of any false moves?
Along with Nicole Holofcener's  "Please Give" (also with Keener), "Cyrus" proves to be one of a slow year's rare delicious comedic treats. Check it out.
Genre: Comedy. Written and directed by: Jay Duplass, Mark Duplass. Starring: John C. Reilly, Marisa Tomei, Jonah Hill, Catherine Keener, Matt Walsh.