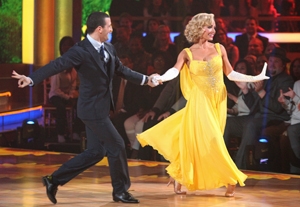 Last night's season premiere of the mega-hit ballroom-dance competition show
"Dancing With the Stars"
(now in its 14th season), showed why this is both an enlightening and irksome television program for trained dancers to watch. Whereas it provides fascinating opportunities to observe the week-by-week evolution of beginning dancers' skills, the pairing of a non-dancer celebrity with a professional ballroom champ serves to spotlight everything that is lacking in the amateur competitors' skills. And then you have to listen to the judges heap effusive praise on the celebrities' performances, which can range from mediocre to truly awful, with a few savory surprises.
It being the first night of the competition, I was willing to tolerate the judges' overly complimentary commentary and their inflated scores—at the outset it is important to give the competitors encouragement—that is until Bruno Tonioli went so far as to compare the amateur dancing of
Jaleel White
to that of Gregory Hines. And they call this a reality show!
Over the course of the two-hour premiere we were introduced to the new season's line-up of 12 celebrity contestants, which includes the usual array of performers and athletes, but oddly no politician this time round. Each contestant danced a foxtrot or cha-cha and were critiqued and scored by the regular panel of judges: Carrie Ann Inaba, Len Goodman, and Tonioli. The contestants' scores and viewers' votes will be added to those they earn next Monday and the first elimination will happen next Tuesday.
The two top scorers of the evening were White, best known for his role as Steve Urkel on the sitcom "Family Matters," and the Welsh opera singer
Katherine Jenkins
. A blond sexpot adorably costumed in a buttercup yellow gown, Jenkins was the only contestant who held her own with her pro partner and looked like she really belonged on the ballroom floor. White was clearly the runner-up, displaying a wonderful performance quality, and appearing as though he may have had some prior training.
The judges were completely wrong, however, in their low scoring of Green Bay Packers receiver
Donald Driver
. In a snappy cha-cha, he showed great speed as well as style, and won my call-in vote. They were equally wrong in the higher scores they awarded to soap actor Jack Wagner's hammy foxtrot and "The View" co-host Sherri Shepherd's bubbly inelegance. Low scores were rightfully given to uninspired dancing by "Little House on the Prairie"'s Melissa Gilbert, "Extra" co-host Maria Menounos, and singer Gavin DeGraw.
The live audience's two favorites were empress of soul Gladys Knight, whose animated facial expressions mollified her leaden dancing, and Telenova heartthrob William Levy, who proved that a dazzling smile and sex appeal goes a long way.
Certainly a contender, "Shake It Up" star Roshon Fegan has hip-hop dance experience, and smartly incorporated some street moves into his cha-cha showing off terrific arms and upper body articulation. Though tennis champ Martina Navratilova should also be a contender—as she remains poised under pressure—the judges were not very generous in their scoring of her foxtrot, which included an impressive lift and floor slide. I would have given her points for daring, but by the end of the night I realized that in "DWTS," sex and theatricality count more than athleticism.