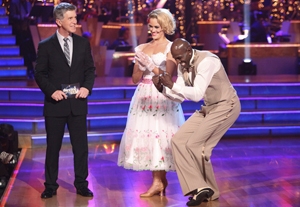 The energy was high-voltage on the Week 2 Competition Show of this new season of
"Dancing With the Stars."
Yet it was not just because all 12 pairs performed a jive or quickstep, the two liveliest of the ballroom dances.
Youthful
Roshon Fegan
, well-paired with girlish pro Chelsie Hightower, performed a spirited jive that kicked off the proceedings with an animated freshness. Last week's indisputable leader, classical singer Katherine Jenkins, was again absolutely electrifying. The macho Latino actor William Levy had the audience gasping for breath with his arousing sex appeal, earning an inflated score from the judges for what was only so-so quickstepping.
Comic
Sherri Shepherd
gave a wowing performance, jiving in a Tina Turner-style, shimmery gold mini-dress to a rousing arrangement of "Proud Mary." Even though she's not a very good dancer, I hope Shepherd remains on the show for awhile as the off-the-cuff remarks she makes in the rehearsal footage are hilarious. "My equipment is way too heavy for all that bouncing around," the hefty contestant said as she appeared defeated in her attempts to master a string of perky jive steps. Shepherd's successful performance had little to do with her dancing; she did more posturing and stylized shaking than technical jive choreography. It was the exhilarating energy of her pro partner, Val Chmerkovskiy, and the number's fabulous music that really made it soar. But Shepherd, a wise performer, knew how to ride the wave. A large part of the effectiveness of the individual dance routines, as well as the overall appeal of the show, comes from the music. The big band arrangements of pop standards are terrific and brilliantly performed by a live orchestra and versatile vocalists.
Despite the exciting performances, the highlight of the evening was when judge Len Goodman admitted he was wrong—as I noted he was in my recap—last week when he gave such a low score to football star
Donald Driver
. This week the athlete showed that in addition to his physical talents—he was one of the few who danced the quickstep with the requisite quickness—he can also act, as he did winningly in bits of pantomime that framed his commendable dancing.
The biggest surprise of the night was talk show host Maria Menounos' excellent quickstep. After her bland cha-cha last Monday, I expected nothing from her this week especially when she appeared wearing a black mask (for a "Bonnie and Clyde"-themed piece) and thereby compromised her greatest asset: her cover-girl face. But her impressive display of quickstep technique earned her one of the higher scores of the night.
The show's low scorer was Martina Navratilova, whose trainwreck of a jive dance was painful to watch. Part of the blame, however, should be placed on the choreography (presumably created by her pro partner Tony Dovolani) which featured too much exposed fast footwork and nowhere near enough arms and upper body movements to help balance, enhance, and complete the look of the dancing.
Though Jaleel White didn't dance as well as he did last week, his easy-to-like personality helped him garner more points than the sub-par performances by the seemingly uncoordinated Melissa Gilbert, rhythmically accurate Gladys Knight, hard-working Jack Wagner, and Gavin DeGraw who, costumed as Marlon Brando in "The Wild One," looked as though he might possess a modicum of dance ability.