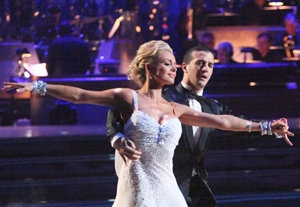 In preparation for this week's competition show, the
"Dancing With the Stars"
celebrity contestants were asked to recall the most memorable year of their lives. The dances they performed, set to songs of their own choosing, were inspired by the life-changing events they experienced during that special year.
As the evening played out, it was hard not to resent the producers' blatant attempts to emotionally sucker us in via the easiest routes. The celebrities' "memorable year" stories all tugged at viewers' heartstrings by exploiting the surefire tearjerkers—from tales of struggling immigrants bringing their families here to live "the American dream" to an adopted daughter uniting with her birth father to the astounding recovery from a "you-may-never-walk-again" back injury. But then, hey, welcome to reality TV.
Happily, the evening's overdose of shopworn sentiments elicited the strongest performances so far this season by the stars across the board.
Katherine Jenkins'
dreamy waltz—danced in memory of her late father who succumbed to lung cancer in 1996—was so elegantly executed that she earned the first perfect ten scores of the season (one each from judges Carrie Ann Inaba and Bruno Tonioli, and a nine from Len Goodman). A perfect ten was also scored by the Cuban actor
William Levy
, despite his bland performance of a hideously-costumed and sloppily choreographed salsa routine. The ten came from Tonioli, for no other reason, one imagines, than Levy's sexual magnetism, which drives the live audience wild and clearly clouds Tonioli's judgment.
Three of the other male contestants—Jaleel White, Gavin DeGraw, and Roshon Fegan—though they danced admirably, shared an unfortunate disadvantage. They were all completely overshadowed by the spectacular dancing of their professional partners, albeit in Latin dances in which the male role is designed to show off the woman. Sporting an Afro wig, Fegan performed a Michael Jackson-influenced samba routine created with input from guest choreographer Travis Payne, who had worked for many years as Jackson's choreographer. The hybrid dance formed a perfect showcase for Fegan's partner, Chelsie Hightower, who, before joining the cast of "DWTS," was a contestant on FOX-TV's popular dance-competition show
"So You Think You Can Dance."
On that show Hightower proved what a versatile dancer she is; even though her technical foundation lies in ballroom dance, she shines brightest in choreography that pushes her beyond the parameters of the ballroom styles. Next to the stunning rumba movements of their respective partners Kym Johnson and Karina Smirnoff, both White and DeGraw, virtually disappeared.
Donald Driver fared well in a rumba that was smartly choreographed to allow him moments of tender expressivity. The hulky football player's performance was described by Inaba as "mesmerizing." Flatteringly costumed in shades of orange and gold, and looking more attractive than he has in previous weeks, the blond Jack Wagner replaced his forced performance quality with a more authentic energy and danced a convincingly celebratory samba.
Maria Menounos was the third highest scorer of the night dancing a beautifully languid rumba in tribute to her Greek immigrant parents who worked as janitors in Boston nightclubs to support the family when Maria was a child. And Gladys Knight exhibited a newfound grace as she took us on a trip down Motown memory lane with a smooth foxtrot that she dedicated to soul singer Sam Cooke.
Even Sherri Shepherd's overwrought rumba and Melissa Gilbert's artless jive dance represented marked improvements over their earlier performances. With five couples tied for last place and everyone dancing better than ever, it's impossible to predict who will go home next.
"Dancing With the Stars" airs 8 p.m. (EST) Mondays and 9 p.m. (EST) Tuesdays on ABC.