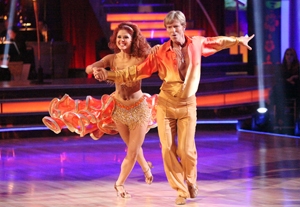 Though his dancing was no worse than that of many of the other contestants, the soap opera actor Jack Wagner became the second celebrity cut from the
"Dancing With the Stars"
competition this season. As the Week 3 Results Show culminated with Wagner's elimination, it became clear that this program is much more of a popularity contest than a true dance competition. Among the lowest-scoring, and hence most likely to be eliminated celebrities, Wagner was probably the least well-known. Next to the likes of the beloved Gladys Knight, for example, Wagner didn't stand a chance of being saved by audience votes.
The Results Show opened with the Grammy-winning musical artist
Seal
singing "Lean on Me." While Seal's performance of the inspirational song was appropriately backed-up by a gospel choir, he was also incongruously "assisted" by the flashy and sexy dancing of two of the professional couples. (Assisted is the term they use on this show to refer to the ballroom pros dancing along with the guest artists' musical performances.)
The highlight of the show was a performance by the Macy's Stars of Dance all-male ensemble, whose members include such "So You Think You Can Dance" favorites as Twitch and Travis Wall, as well as many of the commercial dance industry's top male terps. It was hip-hop meets Bob Fosse when the men, costumed in silver jackets and black hats, danced a slippery, athletic routine with a slick, "street" quality underlined by wonderfully brassy musical accompaniment.
The rest of the evening's entertainment included a song by the country music trio
Rascal Flatts
(assisted, somewhat less incongruously, by a romantic pas de deux from the pros) and a heart-rending waltz by Anna Trebunskaya (who had been Wagner's professional partner in the competition) and her husband Jonathan Roberts, also a ballroom dancer. Fluidly constructed of long phrases of circular movements, their waltz was presented in honor of
Julia Ivleva
, a colleague from the ballroom-dance competition circuit who was diagnosed with Stage 4 lung cancer. Despite her diagnosis, Ivleva continued to dance until her health recently forced her to stop. It seems she has been an inspiration to many dancers in the ballroom community, just as the celebrities learning to dance on "DWTS" are to its many viewers.
The real value of this show is that it lets us identify with stars. Whereas one usually sees celebrities excelling in their chosen field, here we see them outside of their comfort zone. As we watch them struggling to learn ballroom dancing, it lifts our spirits. We imagine ourselves in their shoes and think, yeah, that's probably how I would do it, or maybe I'd even be a little better.
"Dancing With the Stars" airs 8 p.m. (EST) Mondays and 9 p.m. (EST) Tuesdays on ABC.