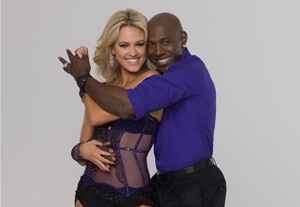 It was "Rock Week" on the fourth competition show of this season's
"Dancing With the Stars."
Kicked-off by the night's musical guests, the rock group
KISS
, the show proved that it is an aesthetic crime to make innocent celebrities do ballroom dance to rock music.
Performing to familiar hits, each couple danced either a tango, paso doble, or Viennese waltz. The jive, or a Latin dance, okay. But the tango and the paso doble? What were they thinking? All of the celebrity contestants tried too hard to reflect the hard-edged, driving, sexy, wild, rebellious qualities of the music, and wound up looking quite silly, in the best cases, and, in the worst instances, like they were enacting a "Saturday Night Live" spoof of a dance competition.
The hero of the evening was Super Bowl star
Donald Driver
, the only contestant to conquer Rock Week's Herculean terpsichorean task. The night's highest scorer, Driver captured the out-of-control "bad boy" sensibility of rock, while quite competently executing a paso doble. Conjuring a downright frightening persona, and perhaps channeling Gene Simmons, Driver used over-the-top, open-mouthed, tongue-out facial expressions in a routine judge Bruno Tonioli described as exuding "power, pride, and sense of humor."
But Driver was alone in his triumph, as even the usually impressive Katherine Jenkins looked awkward trying to dance her paso doble to rock music. Clad in a black unitard, she looked out of her element and insecure trying to perform intricate footwork in heels that felt too high for her to move in comfortably.
Melissa Gilbert
, in her showy paso doble, displayed more dance skill than she ever has before and was more attractively costumed than the others. While black leather was the dominant fashion statement of the night, Gilbert appeared in a gold gown with a long skirt of big white ruffles, and her partner sported a handsome gold bullfighter's outfit. Gilbert's terrified look throughout the dance, however, undermined what she managed to accomplish with the rest of her body. Gilbert hit her head on the dance floor and was taken to the hospital after the show, but she has posted on Twitter that she's okay.
The night's low scorer was Gladys Knight who was hampered by boring choreography she was made to perform to the difficult, virtually un-danceable strains of "Bohemian Rhapsody." Also facing difficulty this week was Maria Menounos who deserves credit for getting through the challenging choreography of her tango routine. It was recently discovered that she has a stress fracture in one of the bones in her right foot, yet she chose to compete nonetheless.
Roshon Fegan offered one of the evening's more successful performances, partly because he had the good fortune to be performing a Viennese waltz that fit nicely with a rock ballad. He demonstrated a flowing quality that led judge Carrie Ann Inaba to deem him the best of the male competitors. Jaleel White also executed his steps with panache. But the overall effect of watching him perform elegant tango figures to "I Can't Get No Satisfaction" was ludicrous. Gavin DeGraw and Sherri Shepherd looked only slightly less absurd as they imbued their dramatic tango choreography with forced intensity.
But the biggest crime of the night was the unfair advantage given to William Levy, over whom the live audience swoons excessively. Whereas all the other contestants had to dance a tango, paso doble, or waltz, Levy alone performed a jive—the only dance authentically suited to rock music. Why? His routine consisted of basic jitterbug steps, an exciting knee slide finale, and a between-the-legs stunt which he completely mangled. After the judges harshly criticized his poor performance, they turned around and awarded him a respectable 22 points (placing him smack in the middle of the score board). I don't get it.