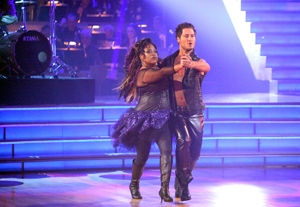 There will be a lot less humor on
"Dancing With the Stars"
from now on, as the Week 4 results show sent
"The View"
co-host
Sherri Shepherd
packing. Though no one will be pining for her dancing, I for one will surely miss her amusing attitude and the hilarious cracks she delighted in making about herself, her partner, the choreography and anything else that tickled her astute sense of comedy.
Prior to Shepherd's dismissal, the results show offered the typical suspense-filled announcements of which couples remained safe and the usual quotient of filler entertainment. A musical performance by KISS was enlivened by a bouncy routine from four of the professional dancers. While the dances on the previous night's competition show were mostly disastrous attempts to pair rock music with ballroom dancing, this number worked very well choreographically, mainly because the pro terps spent very little time dancing as partners in ballroom's traditional closed position. What rock music so famously did to social dancing was break apart the couple. And it did so in an era that also challenged traditional gender roles in society at large. So to see a couple dancing to rock music in a formal ballroom dance position—in a sense wearing the badge of a dance form that reinforces traditional gender roles—feels completely out of sync.
The only successful pairing of rock and ballroom dance that had occurred on the Rock Week competition show was Donald Driver's paso doble. Driver and his professional partner, Peta Murgatroyd, were voted the judges' favorite couple and danced their paso doble again on the results show, becoming the first couple this season invited to give an encore performance.
The evening also featured a stylistically diverse ensemble number by the cast of the new "DWTS" live stage show, scheduled to open in Las Vegas this weekend. But the real treat of the night was a passionate Argentine tango souped up with some classical ballet. Accompanied by a performance from the guest musical group
Gotan Project
, it was danced by Karina Smirnoff (Gavin DeGraw's professional partner in the competition) and former American Ballet Theatre principal dancer Jose Manuel Carreno.