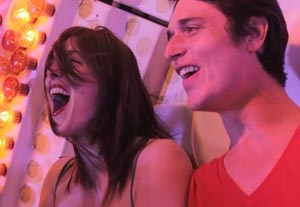 The official French entry for Oscar's foreign-language competition (it didn't make the final five announced this week) and the opening-night film of last May's Cannes Film Festival Critics Week, "Declaration of War" is a movie that defies simple description and convention. Although it is fictionalized, it is in fact the autobiographical story of its stars and co-writers, Jeremie Elkaim and Valerie Donzelli (she also directed).
In what sounds like a cutesy conceit, they play Romeo and Juliette, two young people who meet in a disco, laugh at the coincidence of their names when getting together, and begin a torrid affair they hope doesn't end in tragedy, as it did for Shakespeare's star-crossed lovers. But it does when their coupling results in the birth of Adam, a baby boy who is soon diagnosed with life-threatening brain cancer. The bulk of the film is then centered on the couple's "declaration of war" on the disease and follows the excruciating twists and turns they experience during four years of trying to save their child.
But if this sounds like a standard heartbreaking movie of the week, think again. Donzelli invests the film with so many unexpected moments that the audience never really knows what is coming next. And though the situation is bleak—and quite frankly at times almost impossible to watch—the script and direction never land on predictable sentiment or cloying cliche. In fact, they offer anything but. Have you ever seen a movie about a terminally ill child where the parents resort to jokes and almost silly humor to get through it, or one where they break out in a romantic duet despite being enmeshed in the sterile, frightening world of cancer and hopelessness?
What really gives the film its power is that both stars lived a version of it, and the stress did indeed break up their relationship. But it was the bond of the experience that brought them together again and keeps them together as partners in telling this most personal of stories. You get the sense that it was a dose of therapy to wrap their heads around what happened in that extraordinary period of their lives.
Their real-life experience, of course, makes Elkaim and Donzelli perfect casting. No one could possibly be more effective or moving in the roles, but it is impossible to imagine how they survived the ordeal in the first place and then relived it all over again while writing the script, shooting the film, and now regularly giving interviews for the marketing campaign and at various premieres.
Certainly there are other fine actors along for the ride—notably Brigitte Sy (in particular) and Michele Moretti as their respective mothers and Cesar Desseix as the 18-month-old Adam among a very competent supporting cast—but it is Donzelli and Elkaim, who invest the film with so much of their blood, sweat, tears, and life, that make "Declaration of War" the rewarding and unexpected experience it is.
Genre: Drama
Directed by Valerie Donzelli
Screenplay by Valerie Donzelli and Jeremie Elkaim
Starring Valerie Donzelli, Jeremie Elkhaim, Cesar Desseix, Michele Moretti, Brigitte Sy, Phillipe Laudenbach