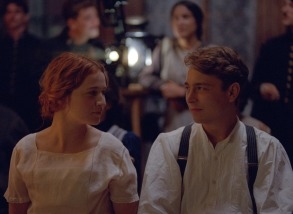 As delicate as oil lightly brushed on canvas, "Renoir" colors in the end of famed Impressionist painter Pierre-Auguste Renoir's life along with the beginning of his son Jean Renoir's equally impressive film career. Watching it is like admiring the fine shadings of any great work; its impact isn't bold and dramatic, but contemplative and meditative. One's enjoyment of this precious cinematic petal has all to do with one's patience with watching paint dry. When the final result is a Renoir, it's worth taking the time.
The leisurely paced film explores that bridge between artists and their work: the ethereal muse, arriving in its usual form of free-spirited femininity. In 1915, as the health of 74-year-old Pierre-Auguste (Michel Bouquet) rapidly declines, he finds his final model in the sensuous spark of Andrée Heuschling (Christa Théret). The definition of early-20th-century French sass, Andrée considers posing naked for a renowned artist as the height of upward mobility. She's no golddigger, however, instead forming that mystical, platonic bond that happens between creator and subject.
What Andrée doesn't expect is the return of Pierre-Auguste's 21-year-old son Jean (Vincent Rottiers), wounded in battle during World War I. As the two young'uns form a burgeoning love, she becomes Jean's inspiration to explore the nascent curiosity called moving pictures. (For non-cinephiles: Young Jean grows up to become an internationally acclaimed filmmaker.)
As quietly as a blossoming rose, we see the artistic spirit pass from one generation to the next, from a centuries-old medium to a hypnotic new technology. The magnitude of this quiet, unspoken shift is transcendent.
Setting the film on elder Renoir's pastoral estate in the French Riviera, director Gilles Bourdos creates lush cinematic compositions worthy of the master's paintings. This is, however, an actor's film. Théret brings the right mix of youthful vigor, entitled insouciance, and budding sexuality to a girl trying to color in her hazy perception of womanhood. Rottiers' performance as young Jean suffers only because he's so disarmingly pretty. (The real Renoir wasn't, to put it politely, quite as dashing.) He comes across like a paint-by-numbers male ingénue, all pouty lips and stoic doe-eyes. He's more a figurehead for the next generation than a fully fleshed character.
Bouquet, who is 87, plays Renoir with a disarming fear, filling his vibrant eyes with somber confusion at a life daily slipping away. His body quakes with such visceral arthritic pain that we feel his physical deterioration alongside his spiritual dread at losing the ability to paint. With the slightest gesture, Bouquet brings to life the multi-layered heaviness of seven tumultuous decades. It's a performance as shattering as it is triumphant.
Critic's Score: A-
Directed by Gilles Bourdes
Casting by Richard Rousseau, Elsa Pharaon
Starring Michel Bouquet, Christa Théret, Vincent Rottiers