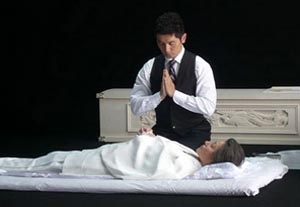 Winning the best foreign-language film Oscar over such formidable competition as
Waltz With Bashir
and the Cannes Palme d'Or winner
The Class
was a surprising triumph for
Departures
, a lyrical and lovely Japanese meditation on life and death—but mostly death. In retrospect it's easy to see why this film resonated with the older-skewing Academy members, but it's unimaginable that adult audiences of all ages will not find something meaningful in this spare but lilting story.
Centering on Daigo (Masahiro Motoki), a symphony musician who loses his job and moves with his wife, Mika (Ryoko Hirosue), back to his hometown to change his fortunes,
Departures
takes moviegoers on a mystical journey into the Asian culture of death and dying. Daigo answers an ad for a job he thinks is working in a travel agency but really is for an "encoffiner," a person who prepares the body for cremation—hardly the glamorous gig he thought he was getting. What he doesn't realize initially is that under the guidance of his new boss Ikuei (Tsutomu Yamazaki), a wise and weary man looking for someone to succeed him, Daigo has headed in a life-altering new direction that will fundamentally change the way he looks at death and, more important, life. His newfound spiritual enlightenment will come in handy when it all hits too close to home.
Director Yojiro Takita thankfully is not trying to fill the screen with melodramatic visual flourishes in this gentle story of one man's startling adventure into the mysteries of how we die and who we are when we take that final step. With great insight and even droll humor at times, this finely crafted jewel of a film creeps up on our emotions and earns honest tears.
Departures
, while culturally a strict Japanese creation, still has many deeply personal truths to which any human being should be able to relate. As our guide, Motoki delivers a perfectly pitched and beautifully understated portrait of a man in the midst of his own significant transition who takes on the task of preparing strangers for their final transition. As Mika, Hirosue is touching and memorable, and Yamazaki also earns a special place in our hearts with his fine turn as Daigo's mentor. Credit goes to Takita for never letting a false note slip into any of these delicately nuanced performances and for the spot-on casting decisions. Special mention also goes to Joe Hisaishi's splendid musical score, which never intrudes but hits all the right notes.
Ultimately,
Departures
(original Japanese title
Okuribito
) is a movie that will spark different and very individual reactions from its viewers. It's a tone poem of many colors, but it's one to cherish for its quiet dignity and keen awareness of the things in life that really matter.
Genre: Drama
Written by: Kundo Koyama
Directed by: Yojiro Takita
Starring: Masahiro Motoki, Tsutomu Yamazaki, Ryoko Hirosue, Kazuko Yoshiyuki