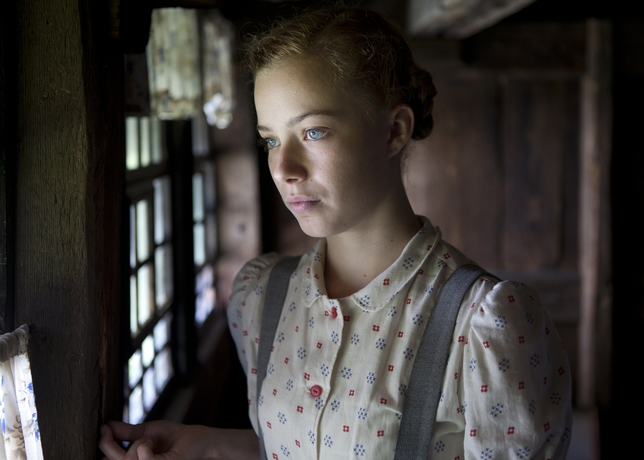 The interminably grim film "Lore" is "The Sound of Music" as nightmare. During the aftermath of World War II in 1945, five cherubic German siblings—who indeed sing folksongs in the woods—find their lives torn apart when their SS officer vater and mutter are sent to prison by the victorious Allies.
The eldest child is 14-year-old Lore (pronounced LOR-ay), played by prickly young actor Saskia Rosendahl, who has been wholly brainwashed by Hitler's propaganda machine. She worships der Führer, absolutely convinced the final victory will reunite her parents and younger siblings—pre-teen Liesel (Nele Trebs), twins Jürgen (Mika Seidel) and Günter (André Frid), and toddler Peter. All five siblings flee into Germany's Black Forest on a weeks-long journey to their grandmother's home near Hamburg. To survive the hills alive with Third Reich savagery, these kinder must do a hell of a lot more than simply remember their favorite things.
Basing her film on the novel "The Dark Room," writer-director Cate Shortland bravely sticks with Lore's point of view, giving the audience an almost insurmountable challenge: to experience a collapsing world through young Nazi eyes. Shortland's success is unsettling.
On their journey, the children meet Thomas (Kai Malina), a charming young Buchenwald survivor who, for reasons unknown, helps the family survive. Lore viciously berates him in enflamed anti-Semitic hatred, but Thomas' kindness and magnetism confound her entrenched beliefs. We pity Lore as a victim of Nazi brainwashing, yet we despise her thinking, revisiting the challenging discussion of civilian complacency.
During a mind-bending encounter with U.S. soldiers, the young Germans see menacing hooligans who will ensnare and ship them to prison instead of the compassionate saviors that American audiences expect.
Shortland excellently directs her impressive troupe of young actors, capturing innocence marred by experience. Each child looks weary, lost, and spiritually damaged, yet their naïveté leaves them incapable of comprehending the depths of their suffering.
The film's fatal flaw, however, is in crossing the line from uncovering a nation's delusions to manipulative visual frightfest. The children are subjected to every conceivable aspect of human suffering: suicide, rape, babies with welts, dogs shot in the skull, a corpse covered in bugs, two grisly murders, and plenty worse. In the confines of filmic storytelling, such incessant bleakness without emotional reprieve overtaxes the audience rather than invests them.
The real horror on display—the widespread victimization, exploitation, and corruption of youthful trust through malevolent political ideology—could have been more chillingly examined not with a relentless parade of graphic visual grotesqueness, but by delving deeper into the psychology of the children it destroyed.
Critic's Score: B-
Directed by Cate Shortland
Casting by Jacqueline Rietz, Anja Dihrberg
Starring Saskia Rosendahl, Kai Malina, Usina Lardi, Hans-Jochen Wagner