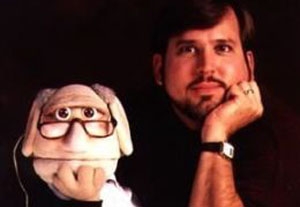 "Dumbstruck" is a fascinating documentary that explores the bizarre, funny, and, at moments, sad world of ventriloquists. It is an improbable subculture, and as presented here—with sensitivity and nuance—it attracts a large and passionate group of devotee-practitioners who view themselves as artists and have their sights set on professional careers. Indeed, an annual convention of ventriloquists takes place in Ft. Mitchell, Ky., where hundreds of them, with various levels of skill and experience, gather to present their shows, network, and garner mutual support.
Director Mark Goffman, making his feature directorial debut, selected five ventriloquists, along with their fuzzy animal, humanoid, and hybrid puppet friends—who undoubtedly take on lives of their own—and followed them over one year. Withdrawn 13-year-old Dylan is determined to make ventriloquism his life's work but is up against a macho father who'd prefer that his son play football. Kim, a former beauty queen, who performs for children, dreams of a lucrative career on cruise ships while worrying whether she'll ever land a husband. The successful cruise-ship performer Dan spends seven months per year on the high seas and struggles to maintain his marriage of 25 years. Six-foot-five, androgynous Wilma, who totes her dummies to shopping centers and hospitals, is facing the loss of her home because she cannot pony up a little more than $1,000 in back taxes. At the opposite end of the spectrum, the wildly successful Terry Fator broke through decades of rejection and obscurity to win "America's Got Talent" and then signed a $100 million Las Vegas deal, making him the most successful ventriloquist in history.
Though in many ways evoking the experiences of actors—honing their craft, hustling for gigs and managers and agents—the lives of ventriloquists seem so much more marginalized. They're ostracized and at constant loggerheads with their families, who view the field as embarrassing at best and, in some instances, sexually kinky. Dylan's father certainly intimates those thoughts. Similarly, despite Fator's achievements, his dad never shows up to see him perform. Wilma's family shuns her on the street, and no one comes to her aid when she is on the cusp of homelessness. Instead, she is forced to go online and track down fellow ventriloquists, who send her funds. If nothing else, ventriloquists are a genuine community and bolster one another. Still, for the most part, theirs is not a happy life. But their commitment to the art form is steadfast and their joy when performing unbounded. You end up rooting for them.
"Dumbstruck" is a wonderful, eye-opening film. It's unfortunate that Goffman doesn't show these ventriloquists in a broader cultural context—to let us know more about the important ventriloquists of the past and understand how these contemporary practitioners extend and depart from the traditions. But it's a small quibble. 
Genre: Documentary
Directed by Mark Goffman