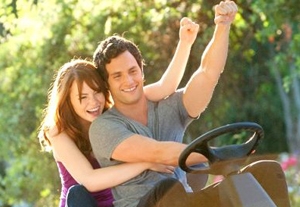 Fueled by a wisely funny and delightful lead performance from the ever-impressive Emma Stone, "Easy A" is easy-to-take, breezy fun that, like "Clueless," gets its inspiration from a literary property. In this case, it's the scandalous story of Hester Prynne in "The Scarlet Letter" that prompts our disgraced heroine Olive Penderghast (Stone) to walk around school wearing the red letter A. Bert V. Royal's amusing screenplay centers on rumors of Olive's alleged sexual transgressions spinning out of control.
It all starts when Olive brags to her overeager friend Rhiannon (Aly Michalka) that a bit more happened over the weekend than is actually the truth. When this little white lie is overheard by the campus' moral zealot Marianne (Amanda Bynes), gossip mongers start going crazy with false tales of Olive's promiscuity. Suddenly the center of attention and more popular than ever, Olive decides to fan the flames rather than 'fess up about the truth of the matter, leading to more complications not only for her but also for her friends and family.
This isn't groundbreaking material; it falls squarely into the overworked teen genre. But it's given such life and verve by Royal's clever take on the insular society of high schoolers and directed with such pizzazz by Will Gluck ("Fired Up") that it seems a cut above the norm for this sort of thing. Chief thanks can go directly to its beguiling star Stone, who—in roles as varied as "Paperman," "The House Bunny," "Superbad," and "Zombieland"—has consistently proven to be a first-class scene-stealer and a screen presence to watch. Here, she finally comes into her own, carrying the film effortlessly and providing needed pluck and a sassy tone that lifts the film into the realm of smart and ribald comedy that may well appeal beyond the teen-girl set to which it's targeted. Stone seems to be having the career Lindsay Lohan tossed aside after "Mean Girls" and thoroughly understands the comic rhythms and knowing attitude "Easy A" establishes from the beginning.
The film also benefits from a top-notch supporting cast, most notably Thomas Haden Church ("Sideways"), whose droll line readings and few scenes as the English teacher who turns her on to Hester Prynne's predicament are right on the money. As his wife, a guidance counselor at the school, Lisa Kudrow doesn't lose her familiar sitcom habits but thankfully stays in a relatively low-key mode throughout, even though her character as written seems a little over-the-top. Michalka is a delight as Olive's best friend, while Bynes clearly relishes playing the "villain" and sells it well. Refreshingly offbeat as Olive's very liberal parents, Patricia Clarkson and Stanley Tucci look like they were made for each other.
Genre: Comedy. Written by: Bert V. Royal. Directed by: Will Gluck. Starring: Emma Stone, Thomas Haden Church, Lisa Kudrow, Amanda Bynes, Aly Michalka. Patricia Clarkson, Stanley Tucci, Malcolm McDowall.