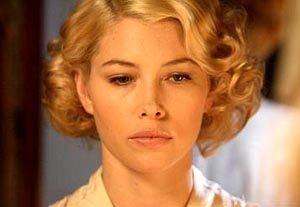 The style is 1920s screwball comedy, updated with a smarter script and deeper ethical issues, with timeless family situations and types. Making
Easy Virtue
particularly watchable, however, are the usually restrained Kristin Scott Thomas and Colin Firth, who here unclench their characters' emotions and bring to the screen warm, vibrant characters with a very human touch of humor and charming foibles galore. With a screenplay by Stephan Elliott and Sheridan Jobbins based on a Noël Coward play, direction by Elliott, the film paints in dearly old-fashioned pacing and delivery but in clearly modern views of such upper-class British institutions as hunting and war—and the way women are treated.
The lovely Larita (Jessica Biel), an American proto-feminist fresh off her stint on the auto-racing circuit, has married the handsome young scion (Ben Barnes) of an English family and arrives at their crumbling ancestral manor to meet them for the first time. Uh-oh. The Whittaker family members are happily entrenched in their lifestyles—at least all but one of them are. Mrs. Whittaker (Scott Thomas) is nonplussed by her new daughter-in-law. The two daughters (Kimberley Nixon, Katherine Parkinson) share their mother's passion for country pursuits and not much else. Larita is bored, as is ol' man Whittaker (Firth). He speaks French and abhors hunting, as does Larita. Uh-oh. Madcapness ensues: Larita sits on Motherdear's yapping Chihuahua and suffocates it, but the sympathetic butler (Kris Marshall) helps bury the critter.
Scott Thomas is as gentle and warm and, yes, as funny as she has ever been onscreen. This is a subtly comedic performance, her face a treasure-trove of expressions equally amused and bemused. Mrs. W clearly loathes Larita but in the tradition of the landed gentry will not overtly show it. Firth, a scruffy artistic type here, shares with us his character's deep, long-held sadness but overlays it with delicious drollness and a quippy wit.
Biel lives up to her English co-stars. She has a lovely period physicality, the melodic delivery of the genre, backstory in her eyes, and a steely spine that lets us know Larita will triumph over her adversaries.
Visual details of the too-comfortable lifestyle and peppy music of the era enhance the filmgoing experience. The shoot must have been fun for the actors; it's clearly fun for us to watch them.
Genre: Period comedy
Written by: Stephan Elliott and Sheridan Jobbins, based on the play by Noël Coward
Directed by: Stephan Elliott
Starring: Jessica Biel, Ben Barnes, Colin Firth, Kris Marshall, Kristin Scott Thomas