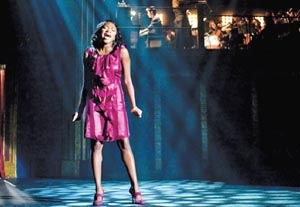 The studio is selling the 2009 version of "Fame" as a "reinvention" and not a remake, saying only the names have changed. And although hip-hop has been integrated heavily into the score, even some of the songs such as the Oscar-winning title tune and the Oscar-nominated ballad "Out Here on My Own" remain. That's fortunate because the undisputed highlight of this version is Naturi Naughton's sweet stirring rendition of the latter, backed only by piano on an empty stage. The power of the moment shows what the movie is meant to be: a showcase for soaring young talents. Unfortunately, few live up to the promise Naughton shows, and as a group they probably wouldn't even make it past Hollywood week on "American Idol."
 "Fame," which like the original follows a few students through their four-year experience at New York's High School of the Performing Arts, is a bit of an anachronism in the era of instant fame via talent competitions like "Idol," "So You Think You Can Dance," and so many others. Alan Parker's 1980 movie earned two Oscars and six nominations, and it spawned a successful TV series, a stage show, a touring concert, and more. It's easy to see why the gaggle of producers on the 2009 film thought the original was worth reviving, because it was ahead of the curve in the anything-to-be-a-star mentality so prevalent now. There's probably still an audience eager to eat this stuff up again, but it's most likely tweens who will fall for the cookie-cutter talents of the nondescript cute boys, pretty girls, and banal musical sequences.
Kevin Tancharoen, the 24-year-old director making his feature-film debut, stages things unimaginatively, and his background primarily as a creator of Britney Spears' garish concerts is evident. The film is broken into four sections detailing freshman, sophomore, junior, and senior years—although it's hard to tell the difference among any of them. We follow the soapy story lines of a few kids with predictable problems along their paths to "fame," including a young cutesy romantic pair of singers (Asher Book, Kay Panabaker), a piano prodigy who would rather belt out the tunes than accompany others (Naughton), a not-talented-enough wannabe dancer (Paul McGill), a fledgling director (Paul Iacono), an actor-rapper (Collins Pennie), a composer (Walter Perez), and on and on. All of these performers are fine, passable, pleasant—but with the exception of Naughton none are so extraordinarily talented as to warrant an expensive remake.
Returning from the original film is Debbie Allen, who played a teacher in 1980 but now plays the principal—although under a different name. The other faculty members are ably played by Kelsey Grammer, Megan Mullally, and Bebe Neuwirth. Among the teachers, Charles S. Dutton makes the most lasting impression.
Entertaining for undemanding audiences, this "Fame" is an okay time-waster, but sadly it won't be living forever.
Genre: Musical
Screenplay by: Allison Burnett
Directed by: Kevin Tancharoen
Starring: Asher Book, Kristy Flores, Paul Iacono, Paul McGill, Naturi Naughton, Kay Panabaker, Kherington Payne, Collins Pennie, Walter Perez, Anna Maria Perez de Tagle, Debbie Allen, Charles S. Dutton, Kelsey Grammer, Megan Mullally, Bebe Neuwirth