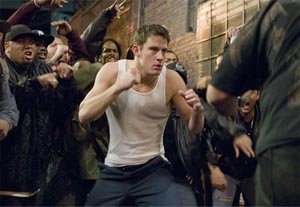 After gaining notice as a Brooklyn boy in Dito Montiel's
A Guide to Recognizing Your Saints
and melting female hearts in the surprise dance hit
Step Up
, Channing Tatum is now ready to step up to stardom in a big way in this genre sleeper about the underworld circuit of bare-knuckle brawling. With several big movies in the pipeline, including a turn as Pretty Boy Floyd in this summer's
Public Enemies
with Johnny Depp and as Duke in
G.I. Joe
:
The Rise of Cobra
, Tatum is on the cusp. But his genuinely fine balance of action stud and nice guy looking for a break on display in this nifty B-movie could do the trick for him before those movies even get released.
As Shawn MacArthur, a small-town guy who takes to ripping people off in the mean streets of New York City, Tatum gives dimension to the role of a talented street fighter who gets noticed by small-time con man Harvey Boarden (Terrence Howard) and soon finds himself immersed in the weird world of fight-to-the-death betting events for rich men with a boner for bone-crushing. As Tatum finds success, he also finds love in the form of a seemingly sweet single mother, Zulay (Zulay Henao), who may not be all she appears. This relationship puts a softer focus on Shawn and allows us to see a gentle side not apparent during his day job. In one of the film's best and certainly most amusing scenes, he is confronted by Zulay's feisty Grandmother (Altagracia Guzman), who proves to be a more formidable opponent than anyone he has ever faced with fists only. As the plot evolves and the action intensifies, he begins to realize that beating up dudes may not be the best career path, especially when it appears he may be in way over his head.
Howard invests his stock lowlife con man, who sees real talent in Shawn, with a sensibility that belies the one-dimensional style in which the character is written. You can see this fine actor trying to take something black-and-white and color it with intriguing shades of gray. Even in genre stuff like
Fighting
, Howard proves he is prodigiously talented. No matter what he has to say, you can't take your eyes off him when he's saying it. Henao and Guzman are perfectly cast; the latter seeming genuinely offbeat and real in her few scene-stealing moments. There's a slew of bad-guy roles as well, but only Brian White as Shawn's main rival—and a former protégé of Shawn's father—comes off with any degree of interest.
Fighting
has a nice feel for this side of New York City, largely thanks to the direction of Montiel, who worked this same territory in the aforementioned Sundance winner
Recognizing Your Saints
and proves again, at least as far as Tatum is concerned, he could write a guide for recognizing your future superstars too.
Genre: Action/Drama
Written by: Dito Montiel and Robert Munic
Directed by: Dito Montiel
Starring: Terrence Howard, Channing Tatum, Luis Guzmán, Brian White, Zulay Henao, Michael Rivera, Altagracia Guzman, Flaco Navaja, Peter Tambakis, Anthony DeSando