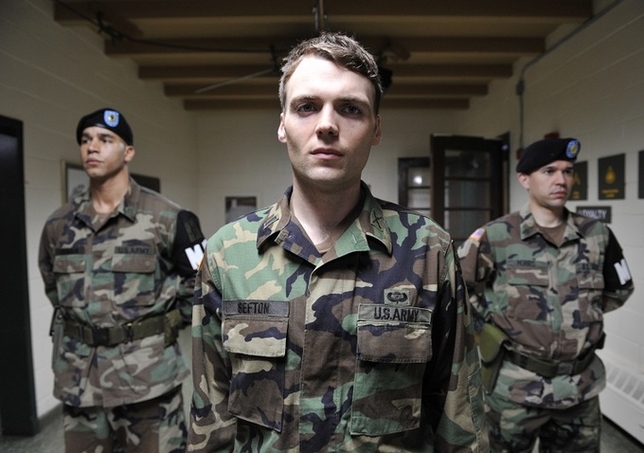 If you ever need a reminder that even the best actors can't work well in a vacuum, check out new movie "Allegiance" (currently in select theaters and available on VOD), in which some talented performers struggle mightily with subpar material. In Michael Connors' film, National Guard units are being called into active duty overseas and none of them are too thrilled about it.
Lucky Lieutenant Sefton (Seth Gabel) is being transferred, however, and won't have to ship out with his unit. Not so lucky is medic Reyes (Bow Wow), who finds out that, sick son or not, he will be heading out with his fellow soldiers because he's "the best damn medic in the unit." ("Allegiance" is the type of movie that has lines like that, delivered at top volume by people like Aidan Quinn.) What follows is a poorly paced escape plan, in which Sefton puts everything on the line to help Reyes go AWOL.
"Allegiance" allegedly pays tribute to the 21 million veterans living in America today, but making a movie about one man's desperate attempt to escape from a tour of duty seems like an odd way to pay tribute to the men and women who have served their country. And making a movie this resolutely dull about an escape attempt seems like an odd way to entertain audiences—particularly when Connors can't decide on an ending and includes three false final scenes before finding one that sticks.
The performances are appropriately intense; Quinn takes barking orders too far, but Gabel and Schreiber manage to at least deliver their hackneyed dialogue with a certain clipped masculinity that leaves it stilted but believable. Bow Wow's entire performance is rooted in widening his eyes in desperation and occasionally accusing Sefton of not being on his side—although Sefton could lose his transfer and his fiancée and face jail time if he's caught. By the time the final credits roll after an oddly unstirring chase sequence, you have to wonder why Sefton—and Connors—made the effort in the first place.
Critic's Score: D
Directed by Michael Connors
Casting by Rebecca Gushin
Starring Seth Gabel, Bow Wow, Pablo Schreiber