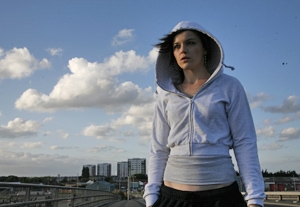 Seventeen-year-old Katie Jarvis was involved in an argument with her boyfriend on an Essex train station platform when casting agents for "Fish Tank" approached her and asked if she would be interested in auditioning for the leading role in Oscar winner (for live-action short "WASP") Andrea Arnold's new film. For any actor who has spent years hitting the bricks looking for that kind of break, it's quite incredible to see that not only did she get to audition; she got the role in a movie that played in competition at Cannes, winning the Jury Prize, and earned its leading lady raves from the international press. With the film finally opening in the U.S., it's nice to report that the praise is warranted.
As a restless teenage misfit in a dreary housing project who enters into an illicit relationship with her slutty mother's boyfriend, Jarvis is a complete natural. There isn't a false note in her performance, which feels almost like a documentary in its effortless portrayal of teen angst and confusion in a dead-end life. That's probably what Arnold was trying to achieve in casting a nonprofessional who had never acted a day in her life. Jarvis plays 15-year-old Mia, a social outcast with a singular passion for dancing—and Jarvis particularly nails those scenes. Although the relationship with Connor (Michael Fassbender), her mom's boyfriend, could be creepy, Jarvis makes it more of an awakening and understandable act for this girl who is trying to escape the "fish tank" existence she is stuck with. Even when it goes south on Mia with surprising revelations, Jarvis never loses the heartbreaking rhythms of this character who is looking for a way out into a more optimistic life.
Arnold is a terrific director of actors; the bulk of the film's dialogue seems improvised and raw. The audience can almost smell the dank and bland housing project this "family" lives in; every detail is there, though it seems deceptively simplistic on the surface. This is a true character study in the best sense of the word, and Jarvis isn't the only one who shines. Fassbender, whose star has been rising with "Inglourious Basterds" and the harrowing "Hunger," is equally at home as the cagey Connor. But he never makes the guy less than human, even as we discover he is infinitely capable of unsavory actions. Kierston Wareing is fine, if less dimensional, as the loser mum, but she acquits herself nicely despite the limitations of the part. Harry Treadaway and Rebecca Griffiths round out the cast.
Arnold is clearly staking a claim as director of the moment for the new wave of English kitchen-sink slice-of-life dramas, the kind the Brits so excelled at in the late '50s and early '60s. Although the territory is bleak, there is a heart beating at its center that makes this fine drama must-see viewing. Its name is Katie Jarvis, and you will be hearing a lot from her.
Genre: Drama
Written and directed by: Andrea Arnold
Starring: Katie Jarvis, Michael Fassbender, Kierston Wareing, Harry Treadaway, Rebecca Griffiths