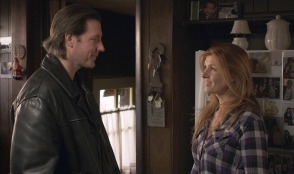 The Fitzgerald family has issues. In the realm of dysfunctional family holiday movies, "The Fitzgerald Family Christmas" blows the rest out of the water in terms of sheer personal drama. Oldest son Gerry (writer-director Edward Burns) has been trying to be the family patriarch for the last 20 years, after the brood's father abandoned matriarch Rosie. He has varying degrees of success with his siblings; most of them resent his intrusion into their messy lives, which are filled with a checklist of easily digestible tabloid problems: abusive husbands, stints in rehab, daddy issues, and multiple inappropriate relationships.
As Gerry tries to gather everyone together first for their mother's birthday and then for Christmas day, everyone's simmering resentments explode and find common ground in deciding to be angry with Rosie for refusing their father's request to be present this Christmas. The problem is, Burns has expended so much energy as screenwriter in making complicated characters that the men and women he's written become "The Abused One," "The Sober One," or "The Bitter One."
There's some pleasure to be had in any melancholy holiday film, and the pleasures of "The Fitzgerald Family Christmas" can be found in the hesitant scenes between Gerry and his neighbor's nurse, Nora (Connie Britton). She's the first woman he's felt a spark of attraction for since his fiancée died (in 9/11, natch), and their dates have an electricity coursing through them that the rest of the film lacks. Certainly those scenes seem more alive than those of Quinn (Michael McGlone) and Sharon (Kerry Bishé), who drive off to her older boyfriend's Hamptons house with Quinn's much younger girlfriend in tow, then abandon both significant others when they hear another sister is having marriage problems. To no one's surprise but theirs, the two left stranded in the Hamptons find solace in one another. Like so many of the film's subplots, it has a tidiness that only the movies can provide.
Burns has been directing his on scripts long enough to nail a certain low-key, ragged charm—and, more importantly, to gather together a top-notch cast—that keeps things humming along before the inevitable pleasant resolution. But Burns would have better served his movie if he had let the characters breathe, rather than cramming in as much conflict and bad choices as possible in 103 minutes.
Critic's Score: C
Directed by Edward Burns
Casting by Maribeth Fox
Starring Edward Burns, Connie Britton, Anita Gillette