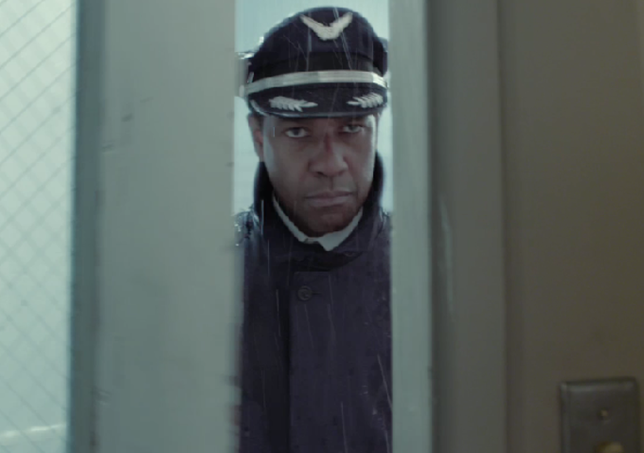 "Flight" represents a return to form for two of its chief architects: Denzel Washington, who delivers one of his best performances after too many years in solid but conventional action-thrillers, and director Robert Zemeckis, who is making his first live-action film after a decade of iffy motion-capture animated movies. The story concerns Whip Whitaker (Washington), an alcoholic airline pilot forced to make a harrowing emergency landing, saving most of his passengers' lives in the process. But his heroism comes under scrutiny when investigators discover he was intoxicated, a revelation that may send him to jail for criminal negligence. This character drama doubles as an affecting portrait of addiction that's all the more arresting because of the lengths Whitaker will go to deny that he has a problem, although it's clear to all around him that he does. Washington makes the character's personal descent a slow-motion heartbreak, and he's surrounded by a strong cast, including John Goodman, Bruce Greenwood, and Don Cheadle, although a special tip of the hat goes to Kelly Reilly, playing a heroin addict who sees in Whitaker a similarly damaged soul.
It's been a mediocre year for animation, which makes the arrival of "Wreck-It Ralph" cause for celebration. Early in the film we meet the disgruntled title character (voiced by John C. Reilly), who's tired of playing the villain in his 1980s video game and treated like a pariah by the game's other inhabitants. Consequently, Ralph escapes his game and goes into another in the hope of being the hero for once. Cleverly satirizing different genres and eras of video games while still being user-friendly for neophytes, "Wreck-It Ralph" mixes sweetness with sharp humor. Also, the filmmakers have found just the right cast for the central roles: Reilly is a natural as the lumbering but warm-hearted Ralph, and Jack McBrayer gets plenty of laughs as the square, dimwitted good guy programmed to always defeat Ralph.
Hip-hop aficionados worship RZA, the influential mastermind behind the legendary Staten Island group Wu-Tang Clan. Sadly, his first directing effort, "The Man With the Iron Fists," doesn't display the same boundless assurance. This bloody homage to the kung fu movies of yesteryear stars RZA as a humble blacksmith living in a Chinese village who must become a warrior to help a dangerous mercenary (Russell Crowe, having a ball) take down some nasty warriors. "Iron Fists" is largely an excuse to deliver some full-throttle martial-arts sequences—the wirework is cheekily over the top throughout—but the proceedings grind to a halt whenever one character starts talking to another character about, like, feelings and stuff.
Sean Penn is known for his intense, fully committed performances, but he risks falling flat on his face with "This Must Be the Place," a deadpan, melancholy look at a washed-up, Robert Smith–like goth rock star, who leaves his Dublin home to travel across the U.S. in search of the Nazi guard who tormented his father during the Holocaust. A meditation on revenge, forgiveness, and America, the English-language debut of Italian filmmaker Paolo Sorrentino is highlighted by Penn's fey turn as Cheyenne, a musician hiding behind his white makeup and red lipstick. It's a nervy, affected performance, but there's also real sadness to it. (Penn wants you to see past Cheyenne's ridiculous surface to the bottomless regret underneath.) "This Must Be the Place" ultimately proves too meandering and tonally erratic to fully connect, but you may end up respecting the effort, if not the execution.
Music serves an even more crucial role in "A Late Quartet," an intelligent drama that's a sturdy vehicle for several fine actors. The movie chronicles a crisis in a New York string quartet. Peter (Christopher Walken) suffers from Parkinson's, married couple Robert (Philip Seymour Hoffman) and Juliette (Catherine Keener) have reached a rocky patch, and Daniel (Mark Ivanir) is trying to resist the advances of Robert and Juliette's comely daughter (Imogen Poots). Despite a whiff of soap opera, "A Late Quartet" sensitively explores how art can bring people together but also tear them apart, and the performances are masterly—especially Ivanir, as a condescending perfectionist who comes to discover that his air of superiority is no guard against unhappiness.