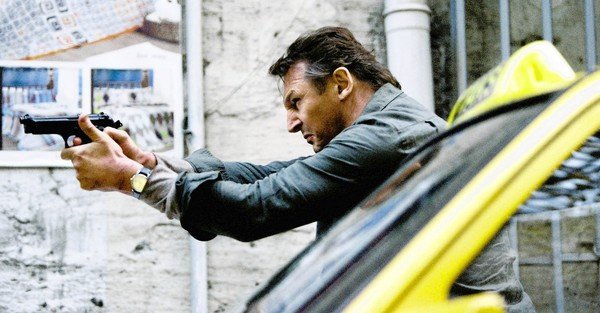 "Taken" was a surprise hit in 2008, propelled by Liam Neeson's commanding performance as Bryan Mills, a gruff former CIA agent who wouldn't let anything—not even plot contrivances—prevent him from saving his daughter from sex-trafficking kidnappers (Maggie Grace). Bryan, his daughter, and his ex-wife (Famke Janssen) are all onboard for "Taken 2," the amped-up, dumbed-down sequel that puts the family in the crosshairs of an Albanian thug (Rade Sherbedzija) who seeks vengeance for his son's death at Bryan's hands. There's a germ of a good idea in the new film—this time around, it's Bryan who's kidnapped and needs his daughter's help—but the predictability of the mayhem starts to insult an audience's intelligence after a while. Amid the carnage, your only refuge is Neeson, who lends Bryan a little soulfulness for those few times when the character isn't busy killing people and glaring.
Director Tim Burton's recent films have been swallowed up by lavish production design and a tiresomely offbeat sensibility, reducing the once-distinctive filmmaker to a purveyor of top-of-the-line shtick. The stop-motion animated "Frankenweenie" is one of Burton's better efforts of late, adapting and expanding his 1984 short to tell the story of a lonely boy (voiced by Charlie Tahan) who brings his trusty dog Sparky back from the dead. The voice cast includes strong performances from Burton veterans Martin Landau and Catherine O'Hara, but the movie's playful callbacks to horror classics like "Frankenstein" can't overcome an underwritten story and a muted emotional payoff. You'll probably fall in love with the adorable Sparky anyway.

There's nothing adorable about the steamy, seamy, trashy world of "The Paperboy," a mystery set in 1960s Florida that follows Ward (Matthew McConaughey), a journalist investigating the possible innocence of a death-row inmate (John Cusack) convicted of murder. Joined by his younger brother Jack (Zac Efron) and the inmate's hot-to-trot lover (Nicole Kidman), Ward pursues the truth. This becomes little more than a thin excuse for director Lee Daniels ("Precious") to fill the screen with one lurid image after another, offering up a knowingly overheated, melodramatic vision of white-trash Southern life dripping with sex and desperation. The accents are as affected as the acting—Kidman in particular is a hoot as the slutty, low-class object of Jack's affections—but eventually the rampant ludicrousness becomes tedious. As for McConaughey, he's had a career-revitalizing year with bold turns in "Killer Joe" and "Magic Mike." His "Paperboy" performance is never less than confident, but it's not how his 2012 will be remembered.

For a better example of how pungent atmosphere can add to the texture of a rich drama, seek out director Andrea Arnold's superb adaptation of "Wuthering Heights," which thrusts us into the harsh, bleak landscape of Emily Brontë's novel and its central relationship between poor black outsider Heathcliff (played by Solomon Glave as a boy and by James Howson as an adult) and pretty white farmer's daughter Cathy (Shannon Beer as a girl, Kaya Scodelario as an adult). As with Arnold's previous features, "Red Road" and "Fish Tank," "Wuthering Heights" is a powerfully sensual and raw viewing experience, and her mostly first-time actors (Scodelario is the only one of the four leads with previous film credits) are strikingly natural, giving Heathcliff and Cathy's burgeoning love all the windswept grandeur and melancholy it can bear.

The omnibus found-footage horror movie "V/H/S" includes five low-budget shorts from up-and-coming fright auteurs such as Ti West. They don't always hit the mark, but the best of the bunch embrace the creative challenge of incorporating the found-footage gimmick within the restrictions of a truncated running time. Surprisingly, one of the strongest entries comes from a non-horror director, mumblecore filmmaker Joe Swanberg. Who would have guessed that a scenario involving a young couple (Helen Rogers and Daniel Kaufman) communicating by Skype could be so unsettling—and so ingenious?

Horrors of a more sobering, less escapist variety occur in "The House I Live In," a documentary that serves as a counterargument to America's four-decade War on Drugs, which director Eugene Jarecki believes has done far more harm than good to the country. Focusing on the government's disproportionate targeting of minority groups and the poor, "The House I Live In" occasionally gets tripped up by Jarecki's emotional investment in the subject. (His childhood bond with his family's housekeeper serves as the film's unexpected jumping-off point.) But on the whole, this is a calm, stirring rebuke to our nation's senseless criminalization of generations of young people.