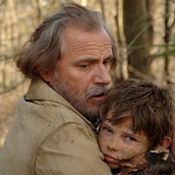 It's an image that lingers: the round-eyed, numbed face of 9-year-old Jakob (brilliantly played by child actor Robbie Kay), who has witnessed the murder of his parents and the abduction of his beloved sister at the hands of Nazis. Traumatized, he flees to the Polish forest and buries himself in leaves, with only his small head barely exposed. The brutal yet oddly lyrical image establishes the tone of this complex story immediately.
Based on the novel by Anne Michaels and written and directed by Jeremy Podeswa, Fugitive Pieces is a terrific film about loss, compassion, and the haunting power of memory. Set in Poland, Greece, and Canada, it recounts the life of a young man who is forever shaped by his World War II experiences. After spending the icy night in the woods, covered in bramble, Jakob is discovered by Greek archaeologist Athos Roussos (Rade Sherbedgia), who is working at a nearby Polish dig site. Horrified and moved by the child's circumstances, he adopts the boy and takes him to Greece; it's an act of extraordinary generosity by a man who has suffered terrible loss and is living with ghosts. Sherbedgia brings gentleness and sensitivity to the role, enhanced by his rugged good looks and soulful eyes. It's a performance that is simultaneously understated and charismatic.
Years later Jakob (Stephen Dillane) has immigrated with Athos to Canada. Jakob has started a life as a student and writer and has married the very pretty and sexy Alex (Rosamund Pike). But he cannot leave the past behind, despite his journey away from it. Dillane gives a multileveled performance, evoking a kind and loving man (not unlike Athos), who is unable to exorcise his demons and, on some level, doesn't want to.
Even the smaller roles in this film are beautifully realized. Ed Stoppard is excellent as Ben, an abused young man trying to love his father and not quite making it. As Ben's father, Diego Matamoros is equally impressive, capturing an unhappy and cruel man frozen in time. Sarah Orenstein is noteworthy as his entrapped but loving wife. Pike is excellent too as the innocent Westerner who cannot understand Jakob, her efforts to do so grating and pathetic. Ayelet Zurer gives an understated performance as Jakob's accepting second wife.
Authenticity is this film's signature, from the sets and costumes, representing a range of times and places, to the Yiddish and Greek that some of the actors have mastered. The cinematography is also evocative though noninvasive.
Fugitive Pieces is a subtle and mature film, and much of the credit goes to Podeswa. All the characters are layered, and there is no dimwitted psychobabble about closure either stated or implied. It's not always possible or even desirable. And this filmmaker understands that.
Genre: Drama.
Written and directed by: Jeremy Podeswa.
Starring: Stephen Dillane, Rade Sherbedgia, Rosamund Pike, Ayelet Zurer.