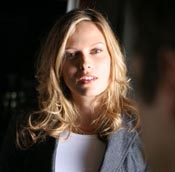 In the post-Robert Altman era, the storytelling style of combining criss-crossing plot threads has almost spawned a genre of its own, as filmmakers such as director-writer Paul Thomas Anderson (Magnolia) and writer Paul Haggis (Crash) dramatize the lives of several characters by intertwining them in ways ranging from clever to contrived. In writer-director Jason Freeland's Garden Party, sex, drugs, rock 'n' roll, and a lot more sex, are important to the motley characters drifting around the Silverlake/Los Feliz area of Los Angeles, who meet one another in myriad ways. Most might be lost souls, but with their hedonistic leanings, they mostly seem to be having a great time. The tone of Freeland's slice of ghetto life veers more toward the comic than to Sturm und Drang suffering.
The focal character, more or less, is plucky waif April (Willa Holland), who has fled the clutches of her lecherous stepfather, finding employment in the big city by taking off her clothes for a slimy photographer (the amusing Patrick Fischler) and serving as office assistant to unscrupulous realtor Sally (Vinessa Shaw), an ex-stripper who grows pot in her garden. Holland is engaging as the resourceful survivor, and Shaw has fun combining sleaze and smarts in a character who seems like a die-hard femme fatale until she meets a wealthy painter, Todd (Richard Gunn) who falls for her and piques her interest. He's a porn addict, but what the heck, love can blossom in the unlikeliest of places.
Suppressed homosexuality enters the picture when Sally's other office assistant, Nathan (Alex Cendese), recently arrived from Nebraska to seek a dancing career, develops an attraction for homeless young rock singer Sammy (Erik Scott Smith) and takes the boy into his home. Cendese elicits laughs as the awkward boy from Middle America trying to assimilate into the sinful city. Smith is appealing with his shaggy-dog demeanor and seductive youthful charm. His singing voice is superb, highlighted by the titular Ricky Nelson song. Christopher Allport, who died in an accident in January, supplies a rib-tickling turn as a creepy real estate rival to Sally who has a penchant for picking up women younger than he is — sometimes even girls.
Technical credits are solid, and the musical score is vibrant. Yet the film stubbornly refuses to rise above its uninspired and meandering narrative.
Genre: Comedy/Drama
Written and directed by: Jason Freeland
Starring: Willa Holland, Vinessa Shaw, Richard Gunn, Erik Scott Smith