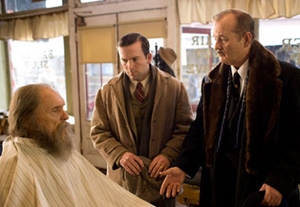 "Get Low" is a master class in acting, despite a story that doesn't quite compute. Part legend, part folk tale, "Get Low" recounts the final days of despised and feared backwoods hermit Felix "Bush" Breazeale (Robert Duvall), who decides to throw his own funeral while he is still alive. The time is 1938, the scene is Roane County, Tenn., and Felix is determined to hear what all those mean-spirited town folk have to say about him. To help Felix pull it off, he enlists the local funeral director, Frank Quinn (Bill Murray)—a hard-bitten, down-on-his-luck alcoholic—and Quinn's morally steadfast assistant (Lucas Black). Bush and Quinn advertise the event by selling lottery tickets to it and offering Bush's property and belongings as prizes. Money pours in, and a social frenzy ensues. As the story progresses, it becomes increasingly obvious Felix is a haunted, guilt-ridden man who sees the funereal gathering as a chance to come clean.
Duvall is extraordinary as the tormented recluse shrouded in mystery. He evokes a keen intelligence and a sensitive soul, along with being a gun-toting figure whose rage is readily triggered. Sissy Spacek is likewise terrific as an aging, soft-spoken widow, complex in her own right, and the only one in town who ever got close to Felix. It's not entirely clear what defined their relationship, but the ambiguity works, adding yet another layer to the human drama. Bill Cobbs is splendid as a minister who sees the darkness in Felix but also recognizes his capacity for stunning generosity. Cobbs is every bit the conflicted clergyman who initially wants nothing to do with the proceedings, but in the end reluctantly feels compelled to participate. This film's revelation, however, is Murray as a fast-talking con artist with no shortage of pathos. Rarely have an actor's eyes on screen registered such anguish.
Credit has to be given to director Aaron Schneider in bringing to life Roane's community of sad eccentrics, not to mention generating the high-level ensemble acting evident here. The story builds nicely—slowly, but without ever lagging—and Schneider's occasional use of music from the era adds just the right aural backdrop; kudos to composer Jan A.P. Kaczmarek. Costume designer Julie Weiss and especially production designer Geoffrey Kirkland and cinematographer David Boyd should also be acknowledged for the bleak, impoverished rural world they've made so real.
Still, Felix's need to confess before a crowd of thousands isn't organic. Indeed, the "crime," even as stated, doesn't warrant the penance. It's as if the writers Chris Provenzano and C. Gaby Mitchell—who otherwise wrote a fine script—were determined to tell a story that supported themes of forgiveness and redemption. It feels arbitrary and tacked on. Nonetheless, "Get Low" is a worthwhile film with exemplary performances.


Genre: Drama. Written by: Chris Provenzano, C. Gaby Mitchell. Directed by: Aaron Schneider. Starring: Robert Duvall, Sissy Spacek, Bill Murray, Bill Cobbs, Lucas Black.