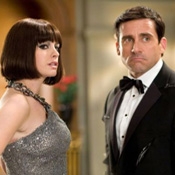 Even in a mindless summer comedy it's risky business for an actor to step into the iconic footsteps of another's beloved creation. But Steve Carell is one smart dude. In the most unexpected of ways, he chose not to imitate the Maxwell Smart made so famous by the Emmy-winning Don Adams in the hit 1960s comedy series Get Smart. In this updated big-screen incarnation, Carell serves up his own take on the bumbling CONTROL spy Agent 86, who gets his big chance to shine when he is teamed with Agent 99 (Anne Hathaway) to go after KAOS, which is once again threatening the world.
Carell's Max is an affable guy relegated to the backwaters of CONTROL, his office job destined to keep him in the shadow of Agent 23 (Dwayne Johnson) even as Max dreams of conquering the spy world. When headquarters is attacked, many agents' identities are compromised, so the Chief (Alan Arkin) has no choice but to bump Max up to Agent and team him with the far more competent 99 -- an update from Barbara Feldon's TV series 99, who followed in Max's footsteps. Now the two must join forces to thwart the plans of KAOS operatives Siegfried (Terence Stamp) and Shtarker (Ken Davitian).
Without going out of control, director Peter Segal and screenwriters Tom J. Astle and Matt Ember have cleverly brought Smart and company into the 21st century; the Cold War is over, but the new war on terror gives the filmmakers plenty to play with. Along with familiar elements imported from the series -- the bottomless telephone booth and the catch phrases "Would you believe" and "Missed it by that much" -- we get plenty of frenetic action bits to augment the comedy, a bow to the mindset of summertime audiences. At times it's overkill, but the stars make up for the mayhem.
Just as Adams was in his time, Carell is the perfect choice to update the Smart adventures. He's likable, and so is his Max, despite all the foibles. Hathaway is an ideal match for Carell and shows a tough side we never got to see in films such as The Devil Wears Prada and The Princess Diaries. Hers is a 99 that doesn't bow to Max but doesn't humiliate him either. Johnson continues to show his comedic side with an amusing turn as the superstar agent who's been grounded. Arkin, perfectly cast, is all fluster and bluster as the Chief. Stamp and Davitian (a far cry from his sidekick role in Borat) are a bit cartoonish but still fun to root against. James Caan and Bill Murray turn up briefly, but neither brings much to the party.
Show creators Mel Brooks and Buck Henry served as consultants on the film, and it shows. Those who loved the TV series will find there is much to like about the new Get Smart.
Genre: Comedy
Directed by: Peter Segal
Written by: Tom J. Astle and Matt Ember
Starring: Steve Carell, Anne Hathaway, Dwayne Johnson, Alan Arkin, Terence Stamp, Ken Davitian