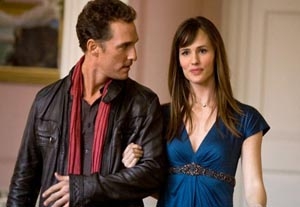 In this highly unoriginal riff on the premise of Charles Dickens'
A Christmas Carol
, Matthew McConaughey sleepwalks through the kind of fluff that Rock Hudson churned out in the 1950s and '60s. Like Hudson, McConaughey possesses a flair for this type of thing, but after
Fool's Gold, Failure to Launch
, and
How to Lose a Guy in 10 Days
, he may have visited this mindless formulaic romantic comedy one too many times to make us care at all about the latest freedom-loving, commitment-phobic womanizer he plays here.
Connor is a carefree photographer who loves 'em and leaves 'em with such abandon he can't keep count of the number he has bedded. His brother Paul (Breckin Meyer), on the other hand, is a true romantic who is marrying the woman of his dreams (Lacey Chabert) at a lavish weekend wedding, which Connor's devil-may-care attitude and thoughtless antics nearly destroy. Connor is visited by the ghost of his late Uncle Wayne (Michael Douglas), a legendary ladies' man who delivers sobering news for his protégé in the form of visits to his past, present, and future jilted girlfriends in order to set him straight. In the middle of all this is the one girl who has always seemed immune to his "charms": his childhood friend and former conquest Jenny (Jennifer Garner).
All would be fine if director Mark Waters and writers Jon Lucas and Scott Moore possessed the kind of light touch this material desperately requires but doesn't receive. To get us behind these characters, there should be a modicum of empathy and believability, but this gang mostly settles for broad, cheesy gags; the visits to girlfriends past are presented as unimaginatively as possible.
With this material, McConaughey seems adrift, his Connor just too pat a creation to credibly attract the thousands of adoring women who seem to hang on his every word. Perhaps the actor doesn't buy into this stuff, at one point saying, "Wake me when there's an action sequence, will you?" Our thoughts precisely. Garner's "girlfriend" Jenny should know better than to still keep a spot in her heart for this guy, but the movie's already-shaky soufflé would completely flatten if there wasn't at least an inkling of a pairing here. She does what she can, but it's a thankless role, and there's little chemistry between the stars. A fine actor, Robert Forster is the Marine drill sergeant father of the bride, but his role is strictly one-note, like those of Meyer and Chabert, a shrieky and shrill bridezilla. The biggest surprise is to find Douglas slumming in a dopey supporting role. It would be okay if his crude dead Uncle was amusing, but his hopelessly dated chauvinistic posturing is mostly pathetic. So is the movie.
Genre: Comedy
Written by: Jon Lucas and Scott Moore
Directed by: Mark Waters
Starring: Matthew McConaughey, Jennifer Garner, Michael Douglas, Breckin Meyer, Lacey Chabert, Robert Forster, Anne Archer