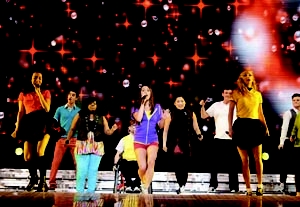 The fast-paced concert film sprinkles only a few highlights of real musical talent through an otherwise blatant pat-on-the-back montage.
A self-congratulatory air envelopes "Glee: The 3D Concert Movie," a blatant commodity designed to illustrate what a splendid influence the hit television show has been on the world at large, if the series' creators don't mind saying so themselves. Not a moment too short at 84 minutes, this pacy compendium interlards two dozen musical numbers with testimonials from fans and cast members about how amazing Glee is, a claim only momentarily backed up by this routinely made promo item. Whatever initial theatrical success the Fox release might enjoy will be short-lived.
Having pride in yourself no matter who or what you are lies at the heart of "Glee's" purpose and appeal, as stated and restated by many of the "Gleeks" among the shrieking multitudes at two recorded shows at the Izod Center in East Rutherford, N.J. Playing to what looks like about an 80 per cent female audience, the young performers are filmed in such a conventional, straightforward manner that the third dimension adds virtually nothing to the experience — which might be noted by some of the customers who pay a surcharge for what, in this case, is entirely a promotional gimmick.
Initially identified so quickly as to be unhelpful to the uninitiated (for whom this film will be a distinct non-event, anyway), the cast members are nothing if not bouncy; in fact, by far the most common move in Zachary Woodlee's choreography is bouncing up and down in place. Even a touch of self-deprecating humor would have gone a long way to balancing out the self-satisfied braggadocio of some of the singer-dancers, who are generally boastful in inverse ratio to their evident talent.
In fact, some of them, particularly the women, exhibit real musical flair in a concert setting. The one genuinely electrifying number is Lea Michele's rendition of "Don't Rain on My Parade." In an interview at the outset, Michele emotionally confesses her idol worship of Barbra Streisand and her ability to channel and, essentially, reproduce Babs' phrasings and sheer sonic power is almost uncanny.
Another born belter is Amber Riley, who has likely already heard the Jennifer Hudson comparisons for years but wows the audience with her soulful range and expressiveness. Naya Rivera impresses in a more subtle, sultry register. Toward the end, the TV show's occasional guest star Gwyneth Paltrow skips on for an agreeable enough stint. Several of the boys have fine, clear voices, but none at this point suggests the potential of the best girls as a breakout solo act. As on the show, the song selections cut across the pop and, less so, show tunes catalogs, with upbeat, quasi-inspirational choices in forefront.
"We're the quirky, weird kids," one of the many geeky fans testifies on camera, and all the interstitial material is devoted to illuminating how much 'Glee' has meant to misfits, outsiders, young gays and anyone who considers themselves "different." The two high schoolers offering the lengthiest personal accounts of adversity overcome are a cheery female dwarf who became a star cheerleader and was invited by a football player to the prom, where she was voted queen, and a gay fellow who was unwillingly yanked out of the closet in eighth grade but is now an exemplar of gay pride.
In this way, this feel-good concert movie goes to great lengths to insist what a great thing Glee has been during its two years on the air, but this document itself will be but a footnote to its legacy.

Opens: August 12 (20th Century Fox)
Production: Ryan Murphy Productions
Director: Kevin Tancharoen
Cast: Dianna Agron, Chris Colfer, Darren Criss, Kevin McHale, Lea Michele, Cory Monteith, Heather Morris, Amber Riley, Naya Rivera, Mark Salling, Jenna Ushkowitz, Harry Shum Jr., Chord Overstreet, Ashley Fink, Gwyneth Paltrow
Producers: Ryan Murphy, Dante Di Loreto
Executive Producers: David Nicksay, Ian Brennan, Brad Falchuk
Director of Photography: Glen MacPherson
Editors: Myron Kerstein, Jane Moran, Tatiana S. Riegel
Choreographer: Zach Woodlee
PG rating, 84 minutes– The Hollywood Reporter