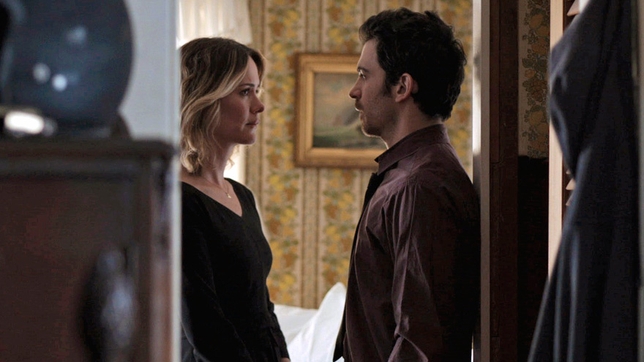 There is a fine line between watching adult men struggle with finding themselves and immature boy-men behaving badly. That line is generally defined as one's 30th birthday, which puts the trio of friends at the center of "Fairhaven" firmly on the side of boy-men.
Reunited after years by the death of Dave's father, Dave (Chris Messina), Jon (Tom O'Brien, who also wrote and directed), and Sam (Rich Sommer) bundle up for the freezing Massachusetts weather and consume drugs and booze in astonishing quantities while wondering why they aren't happier in their lives. The only one to leave Fairhaven behind, Dave now lives in the Southwest and runs a club; Jon wants to focus on his writing and quits his job on a fishing boat; and single divorced father Sam is so busy trying to be a good dad that he hasn't been on a date in a couple of years.
The inciting incident, such as it is, for this relationship drama is when Dave admits to Jon over drinks and a lap dance at a strip club that he had sex with Sam's ex-wife (Sarah Paulson) while they were on a break prior to their divorce. Jon, who is exactly the kind of guy who romanticizes his youthful glory as a high school football player and all of his friendships from that time, is taken aback, to say the least. Furious with Dave for dropping this "bomb," he rails about it in therapy and escapes a coke-fueled threesome to bang on the door of his New Agey crush.
Additional messy nights out follow, while each man contemplates where his life took a wrong turn. Messina caps off a busy 2012 with his performance here—he also wrote the story—but his conflicted, bad-boy character seems like an amalgamation of several of his previous performances. Multi-hyphenate O'Brien (whose voice is distractingly similar to Messina's) can't overcome the limitations of his role. Still living in his hometown, Jon wants everything to stay the way it was in high school, but with himself as a successful writer instead of a quarterback.
Only Sommer, as a gentle guy who's almost pathetically grateful for kindness from women, emerges unscathed. Low-key and eager, his Sam is a funny, sweet guy who seems to have outpaced his two friends in terms of maturity. His scenes with Paulson are rife with subtext and unspoken hostility, regret, and sadness—though Paulson has the film's most thankless character.
Actually, all of the female characters are pretty thankless roles, from a horny stripper to the comedic relief, hippie-dippy Angela (Shelley Duvall-esque Alexie Gilmore), who teaches a class that involves forcing oneself to laugh while resting one's head on the stomach of another student. Like the male fantasy stripper, Angela isn't a real person, just another construct in a heavy-handed film.
Critic's Score: C
Directed by Tom O'Brien
Casting by Hillary Missan and Angela Peri
Starring Chris Messina, Tom O'Brien, Rich Sommer, Sarah Paulson