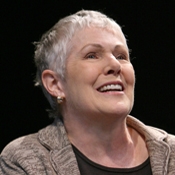 Critics sometimes overlook actors' physical attributes when the business of assessing a production is at hand. But sometimes you've just got to make a mention. Look at Lynn Redgrave's brash and severe haircut in the title role of Mick Gordon and AC Grayling's intense, engrossing Grace. This may be how she wears her hair nowadays, but as an intellectually rigorous, emotionally steely woman, Redgrave's close-cropped cut imparts volumes about her character.
Grace is not only a well-regarded natural-science professor but a very public, strident atheist. Her preferred term -- as she reminds husband Tony (Philip Goodwin), son Tom (Oscar Isaac), and Tom's fiancĂŠe, Ruth (K.K. Moggie) -- is naturalist, highlighting her view that if one cannot identify God with one of the physical senses, then God cannot exist.
Unfortunately for her, Tom, a civil-rights attorney like Ruth, is dissatisfied with his work and announces his wish to become an Episcopal priest. For Tom's ultra-liberal parents (note the recurring tale of Tony and a tab of ecstasy), this is apostasy, ignition fuel for a monumental clash between mother and son. Grace is infuriated by the idea of Tom as another deluded believer, another enabler of religious zealotry. Yet for Tom, this devotion to religion isn't merely personal, it's to "help people feel that it's fine to be thinking, moderate, self-critical, and religious." Now Grace reaches the limit of maternal tolerance. "You can't have it both ways," she pleads. "It's faith or reason -- you have to choose."
No, he doesn't. It would help, though, if he had an adequate answer for Ruth, who asks if he'll love God more than her. It would help because she's pregnant.
Until you grasp that the structure of Grace skips back and forth across time, Joseph Hardy's production can feel unfocused and meandering. The play starts and ends with Grace in a science lab, electrodes affixed to a helmet on her head, participating in an experiment said to stimulate that part of the brain associated with spirituality. Given that something terrible does happen to Tom, much as Grace feared, this is her effort to use rationalism in lieu of emotion one more time in an attempt to connect with the son whose beliefs collided so colossally with her own.
While Grace can be very talky, Redgrave, who is on stage for virtually the whole play, delivers a knockout performance. Grace is maddening and infuriating and tender and rich, and Redgrave blasts through the play's academic-style debates with the assuredness of someone able to unearth passion from the driest bits of Shaw. Isaac holds his own deftly. His Tom comes to fully appreciate that even the most freethinking among us can be ultimately hobbled by long-dormant biases. Goodwin counterbalances Redgrave expertly. That Tony happens to be Jewish, for example, lets him play the role with something of a wink. After all, this is a man who long ago subsumed his religiosity to appease his wife but still snuck his son out of the house for his circumcision; he'll likely rediscover his faith following his son's death. As the least effusive person in this querulous quartet, Moggie offers moments of penetrating clarity -- just what Grace needs.
For stubbornness is Grace's albatross. It takes a long time for her to visit Tom's grave, where she's mystified by Ruth's behavior. Yet it's Grace who refuses to talk to her dead son directly. It's as if she would be admitting that her atheism -- or naturalism -- has cost her dearly. So when, at last, Grace speaks to the grave, it's the most natural thing that Redgrave explodes into primal screams and sounds. For it's not about what she believes. It's that she is finally able to grieve.
Presented by MCC Theater
at the Lucille Lortel Theatre, 121 Christopher St., NYC.
Feb. 11-March 8. Tue. and Wed., 7 p.m.; Thu. and Fri., 8 p.m.; Sat., 2 and 8 p.m.; Sun., 3 p.m.
(212) 279-4200 or www.ticketcentral.com.
Casting by Telsey + Company.