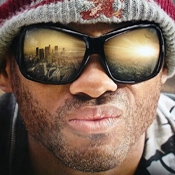 Here's the formula for a smash hit: a summer action comedy with a superhero twist, endless visual effects, plus Mr. Can't Miss (the always engaging Will Smith) in an offbeat role meeting his match in Oscar winner Charlize Theron. Throw in the amusing and likable Jason Bateman all under the direction of hot actor-turned-director Peter Berg (The Kingdom), and what could possibly go wrong?
Plenty. Another week, another comic book movie. But unfortunately Hancock falls far short of the standards set so far this season by the likes of Iron Man, The Incredible Hulk, and the upcoming Batman redux, The Dark Knight. It's a shame, because Hancock has a unique premise and a cast you want to love. But it also has the air of too much studio calculation. Instead of a decent script, it looks like they just wanted a tailor-made Will Smith movie for the Fourth of July. After all, this is the actor who has successfully opened a few blockbusters that weekend: Independence Day, both Men In Black. So who cares if it works or not; just get it done in time. Sadly, they forgot to throw in the fireworks. Not that this will keep the fans away, at least on opening weekend. After that, word on this turd could be dicey.
As the title character, Smith plays a reluctant superpowered hero in contemporary Los Angeles. He drinks too much, dresses like a slacker, and doesn't give a damn what anyone thinks about him. Still, he can fly through the air, stop a speeding train with his fist, and generally cause great havoc while keeping the city safe from crime. His poor attitude does not endear him to the general public, so into his life comes PR executive Ray Embrey (Bateman), who sets out to remake Hancock into the image of a true Superman among men -- and that includes a new wardrobe befitting a guy endowed with powers so imposing even Spider-Man would quake in his boots.
Much of the film's 90-minute running time is taken up with Hancock's relationship with Ray and his family, particularly Mary (Theron), who, it becomes clear, has a "problem" with her husband's new client. To reveal any more would spoil the big "twist" the film springs at the halfway mark.
With a cast this good, it's a shame the script by Vy Vincent Ngo and Vince Gilligan was not better or at least a little more plausible. With the action all taking place in the very real world of today's L.A., much could have been done to make this soar above the usual flick of its type, but the tonally challenged screenplay, shaky camerawork, and in-your-face direction only underscore the point that this is all style over substance.
Coming off impressive work in films such as I Am Legend and The Pursuit Of Happyness, it's easy to see why Smith might have been attracted to the conflicted and hell-bent world of Hancock, but the performance is too affected to really work. The richly talented Theron becomes a major player in the second half; though the abrupt shifts in tone here pose an acting and credibility challenge, she handles it about as well as any actor possibly could. Bateman is his usual reliable self and deserves credit for trying to create a mere-mortal character who makes sense in a movie that doesn't on just about every other level.
Genre: Action/Comedy
Directed by: Peter Berg
Written by: Vy Vincent Ngo and Vince Gilligan
Starring: Will Smith, Charlize Theron, Jason Bateman, Eddie Marsan