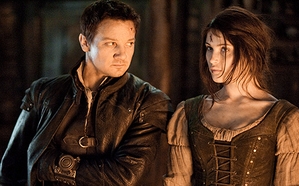 Once upon a time, unknown screenwriter Tommy Wirkola woke up with an idea: a script called "Hansel & Gretel: Witch Hunters," a wannabe badass action flick about the now grown-up titular characters' mission to slay every witch in the medieval forest as vengeance for the one witch in the candy house who tormented them as wee kiddies.
The story of "Tommy Wirkola: Filmmaker" is as unbelievable as any fairy tale. His ludicrous script was given the green light by a major studio; he was hired to direct; the film landed Academy Award-nominated Jeremy Renner as Hansel, Gemma Arterton as Gretel, and Famke Janssen as the grande dame witchy villainess Muriel; and he got the thing filmed in 3D.
Gruesome, bounty-hunting retribution comic-fantasies are, disturbingly, all the rage—from the Oscar-nominated, racially charged "Django Unchained" to the upcoming feminists-with-guns "Girls Against Boys," to the ridiculous "Abraham Lincoln: Vampire Hunter." After "Hansel & Gretel," maybe there will be retribution against studio heads that allow such dreck to be placed before audiences.
Granted, only tongue-in-cheek whimsy could be expected from such a ridiculous premise, but at least there's the faint hope it could be smart. The film is an insult to the intelligence of a preschooler. Hansel and Gretel are lousy hunters, consistently finding themselves entrapped by dim-witted witches. Whenever they do manage to corner a witch, she always escapes, even when held at gunpoint.
Oh yeah—we may be in the Middle Ages, but automated assault rifles are plentiful, as are battery-operated electric tasers that double as defibrillators and insulin injections for Hansel's diabetes (acquired from eating too much witch-house candy as a kid). Where's the bounty hunter for pointless anachronisms?
Because the brother-sister crime fighters are celebrities across the land, it makes zero sense that the local sheriff wants to jail them and refuses their help in capturing the fierce Famke-witch kidnapping the hamlet's children. And you'd think after 15 years on the beat, H&G would have learned that good witches exist or have discovered their own mystical past. Truly, they are morons.
Boredom doesn't completely set in thanks to breakneck pacing, nifty effects, fanciful production design, and fantastical make-up for an army of witches. The performances throughout are phoned in, with the exception of Janssen, digging her claws in deep as a supreme witch bitch. These are roles accepted for the paycheck.
And several bank accounts lived happily ever after.
Critic's Score: F
Directed by Tommy Wirkola
Casting by Deborah Aquila, Jennifer L. Smith, Tricia Wood
Starring Jeremy Renner, Gemma Arterton, Famke Janssen