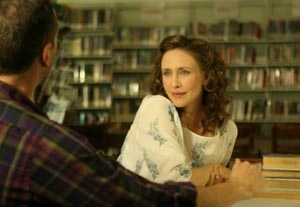 Vera Farmiga is a serious actor. Now she's a serious director, too. Making her debut behind the camera in the small crisis-of-faith drama "Higher Ground," she battles problems of tone by sometimes awkwardly walking a thin line between lighter and much darker moments. But she ultimately prevails in a surprising character study that has no heroes or villains, no black or white. Set in a loose-knit fundamentalist Christian community and spanning the 1960s and '70s, the story centers on Corinne, who on the surface seems comfortable on her religious path, but beyond the façade she is on a journey to define her true faith. Carolyn S. Briggs' script (co-written with Tim Metcalfe and based on her memoir) neither condemns nor endorses the Christian faith but instead explores it through the singular, subtle, and quiet search of its main character. This is a triumph, as Hollywood has a spotty track record in producing realistic and thoughtful examinations of true faith in this part of the religious world. Often characters portrayed in fundamentalist Christian situations are reduced to cheap stereotypes, but not here. In that way, Farmiga's fine debut resembles the work of another actor turned director: Robert Duvall in "The Apostle."
Honesty describes every moment of Farmiga's performance, as well as that of the actors who share the role in Corinne's younger years: Taissa Farmiga and McKenzie Turner. Taissa, Vera's younger sister, is especially affecting and naturalistic in shepherding Corinne through the teen years and her pregnancy and relationship. John Hawkes drops the evil layers of his turn in "Winter's Bone" to show a completely different side as Corinne's complicated but basically good father. Norbert Leo Butz is perfectly cast as the local preacher. Joshua Leonard, as Corinne's husband, Ethan, a shaggy-haired singer turned devout Christian worshiper, is very fine, particularly in demonstrating his cluelessness about his wife's personal drama. Their marriage drift is well-etched and a bit sad as they grow apart, neither one a villain or a one-note player in the slow demise of the relationship that began in their teen years. Best among the supporting cast is Dagmara Dominczyk as Annika, Corinne's goodhearted, somewhat zany friend whose sudden stroke becomes the catalyst for Corinne's crisis of faith. Annika's descent into a vegetative state provides Corinne so many more questions than answers and propels the story to a believable conclusion that leaves those questions largely unanswered.
Farmiga is not afraid to let scenes play out and give her actors room to breathe and create fully three-dimensional performances. She succeeds admirably in moving her own impressive career onto higher ground, too.
Genre: Drama
Written by Carolyn S. Briggs and Tim Metcalfe
Directed by Vera Farmiga
Starring Vera Farmiga, Joshua Leonard, John Hawkes, Taissa Farmiga, Norbert Leo Butz, Dagmara Dominczyk, McKenzie Turner