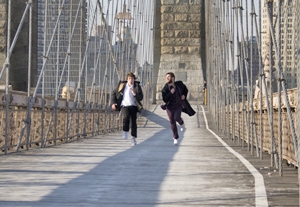 With three movies out this week co-starring Jesse Eisenberg ("Solitary Man" and "The Living Wake" are the others), it's nice to see this fine actor getting all the roles Michael Cera turns down—or is it the other way around? Like Cera, Eisenberg is seriously in danger of playing the same guy over and over. Or maybe Cera and Eisenberg are the same guy. At any rate, the look is a little different this time out in this fact-based story about a drug ring of young Hasidic Jews in New York who managed to smuggle more than a million ecstasy pills for an Israeli drug dealer.
Eisenberg is Sam Gold: the perfect son representing his Orthodox family and religion, a young man studying to become a rabbi. Trouble strikes in the form of his neighbor and friend Yosef (a terrific Justin Bartha) who is into the drug trade way over his head. Yosef, bad influence that he is, talks the reluctant Sam and a group of others into forming a ring that brings the desired drug to a cartel that wastes no time in exploiting new employees. When Sam's father (Mark Ivanir) finally gets wind of his son's activities, he goes ballistic and tosses him out of the house. As Sam grows more sheepish about the whole enterprise, Yosef drags him further into a dead-end lifestyle.
Director Kevin Asch, working from a script by Antonio Macia, seems to know this part of Brooklyn well and particularly gets the Orthodox pocket within it down perfectly. Unfortunately, in Asch's careful direction, everything is so measured and low-key that the film seems too laid-back for its own good. There's no tension being worked up here, perhaps partially due to Eisenberg's acting style, which tends to go for subtlety at every turn. That's not a bad trait, but in a story in which he plays a devout fish-out-of-water, it would be nice to see him get a little more worked up about things—think of altar boys–turned–Soviet spies Timothy Hutton and Sean Penn in the somewhat similar in tone "The Falcon and the Snowman."
Bartha is on fire in this thing, and he's totally believable as the drugged-up kid who has lost his way in faith and family and turned to a life he's not emotionally suited for. He overcomes his good looks to credibly play a boy dangerously dabbling in a criminal life and coming up with the short stick. Why Eisenberg's Sam, who is presented as such a good kid, would let himself get caught up with this guy is the bigger question, which the script never quite answers. Also lacking credibility is a weird sort-of "relationship" between Sam and the drug dealer's girlfriend (well-played by Ari Graynor) that goes nowhere. The rest of the cast is well-chosen, with Ivanir a standout in his scenes as Sam's disappointed dad.
"Holy Rollers" is a cutesy title for what is essentially a serious tale about promising youth wasting their lives. It's also a fascinating true story that, unfortunately, never takes flight on the screen.
Genre: Drama.
Written by: Antonio Macia.
Directed by: Kevin Asch. Starring: Jesse Eisenberg, Justin Bartha, Mark Ivanir, Ari Graynor, Jason Fuchs.