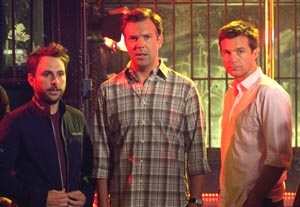 Oh, what "The Hangover" hath wrought. The success of that crude "buddy" comedy appears to be opening the floodgates for a raft of imitators—some bad and some good.
Into the latter category let's put "Horrible Bosses," an employee fantasy revenge flick that, thanks to canny casting and great chemistry among its three leads—but no thanks to its direction—is a lot better than it has any right to be.
With Jason Bateman and Jason Sudeikis joined by the hyper-hilarious Charlie Day, this modern-day Three Stooges trio manages to milk every laugh imaginable from a coarse, down-and-dirty screenplay by Michael Markowitz, John Francis Daley, and Jonathan Goldstein.
This is black comedy at its most delicious; too bad the script falls back too many times on contrivance and operatic hysterics. Billy Wilder would have had a field day with the premise, but director Seth Gordon goes only for the lowest laughs. That he gets so many of them is again due to the good sportsmanship of his cast, who are mostly perfectly matched.
Unashamed to utter a plethora of expletives in hard R fashion and verbally explore all body parts with crude wit, these actors let it all hang out and get just the right rhythms going for a good time at the movies—although you'll probably be embarrassed to admit it in the morning.
Three friends discover each is working for the boss from hell and decide to collectively do something about it by knocking them off. Bateman deals with an egomaniacal asshole played to the hilt by Kevin Spacey, who seems to relish portraying a one-dimensional psycho who oozes venom. Day as an engaged dental assistant is the unlikely and unwilling sexual object of an overly juiced nymphomaniac (Jennifer Aniston in a change of pace), while Sudeikis trades his departed dream boss (Donald Sutherland) for the coke-snorting party-boy son who inherited the business (an unrecognizable Colin Farrell). Of course things get wildly out of control as their methodical plans turn ugly and real.
Bateman's droll takes, Sudeikis' dumb charm and oafish personality, and especially Day's high-pitched line readings make this trio cook on all cylinders. At times sounding like he's channeling Bobcat Goldthwait, Day provides a masterful lesson in inventive use of vocal gymnastics, getting guffaws that probably aren't even on the page.
Clearly a lot of improvisation was encouraged, and these boys came to play. Spacey also knows his way around this kind of lowbrow material, and certainly Farrell, disguised with an unattractive comb-over and large glasses, is having a blast. Aniston obviously relishes the opportunity to get out of the rom-com rut, but she is the least successful in giving any kind of edge to her horny, sexually harassing (to say the least) dentist; the role is written in one dimension, and she rarely gets out of it. There's also a nice extended cameo from Jamie Foxx, who smartly underplays his savvy street hustler, Dean "Motherf---er" Jones.
Grab a beer and dial down your expectations. This is one male-bonding romp that won't give you a hangover the next day.
Genre: Comedy
Written by: Michael Markowitz, John Francis Daley, Jonathan Goldstein
Directed by: Seth Gordon
Starring: Jason Bateman, Jason Sudeikis, Charlie Day, Jennifer Aniston, Kevin Spacey, Colin Farrell, Jamie Foxx.