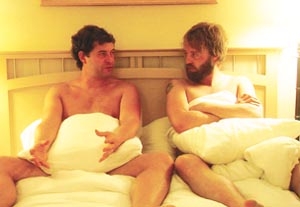 The story of two straight friends who decide to create and star together in a gay male video for an amateur porn contest,
Humpday
was a minor sensation at this year's Sundance Film Festival. It's opening in theaters (albeit in a more limited manner) the same day as
Bruno
. It's hard to tell which is more outrageous: a straight comedian (Sacha Baron Cohen) posing as an über-gay fashionista or two average dudes trying to make a quick buck by pretending they have the hots for each other. Both seem likely to stir up derision in the gay community. But when you cut to the core,
Humpday
has a little more meat on its boner and, in addition to being richly amusing throughout, actually has pertinent things to say about sexual identity and just how fragile and screwed up the male ego can be.
The main reason for the nervy comedy's success beyond the initial one-joke concept could be that it's written and directed by a woman, Lynn Shelton, who clearly has a keen eye for detailing male foibles and insecurities in all their glory. She closely observes the emotional life of these characters, rather than exploiting the premise and going for cheap laughs. In so doing, she gets to the heart of the matter even more fluidly than Kevin Smith did in his somewhat similar 2008 flick,
Zack and Miri Make a Porno
.
Shelton's tale revolves around Ben (Mark Duplass) and Andrew (Joshua Leonard), who were major goof-offs in college and have taken divergent paths in the decade since. Ben has a nice job and loving wife, Anna (Alycia Delmore), while Andrew has been roaming the world as a carefree artist. One day he shows up at Ben's door, and their renewed comradeship culminates in a plan where they vow to fulfill a mutual dare by entering an amateur porn contest together, creating a piece of gay cinema that will be perceived as "art."
Those hoping to see a graphic gross-out romp will be sorely disappointed.
Humpday
is largely made up of long, dialogue-laden scenes in which the characters just talk about sex. Fortunately, Shelton has cast enormously gifted actors in the three main roles. Duplass and Leonard are perfect as the mismatched wannabe porn stars, handling with aplomb Shelton's free-flowing words. Duplass is particularly good as the well-meaning but misguided Ben, playing him as confused and flaky. Delmore also does nicely, coming off real and genuine as Ben's wife, particularly in a brilliant scene in which the guys try to break the news to her about their brainstorm. Although there are other minor players, the film revolves around this triangle, making
Humpday
not only a great showcase for very talented and engaging performers but also a meaningful and entertaining buddy movie with an ingenious twist.
Genre: Comedy
Written and directed by: Lynn Shelton
Starring: Mark Duplass, Joshua Leonard, Alycia Delmore