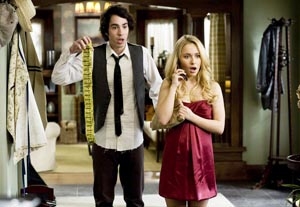 We should have had a clue from the first two words that appear onscreen: Fox Atomic. The recently disbanded production entity responsible for such gems as
Miss March
and
The Hills Have Eyes 2
is also behind
I Love You, Beth Cooper
. Uh-oh. For the first 10 minutes or so, this teen comedy seems promising, particularly during dorky lead character Denis Cooverman's (Paul Rust) valedictory address to the graduating students of his high school. His speech turns into a hilariously embarrassing and very personal public therapy session during which, among other things, he verbally attacks a school bully; outs his best friend, Rich (Jack T. Carpenter); and professes his undying love for the popular and vacuous Beth Cooper (Hayden Panettiere). But what initially looks to be a smart and original flick about the awkward summer of transition between high school and college quickly shows its true colors as a painfully unfunny and out-of-control gag fest, a poor second-cousin wannabe of the current king of the genre,
Superbad
, which unfortunately is spawning very ugly children.
Director Chris Columbus, working from Larry Doyle's script (based on his own novel) seems far more interested in loud, over-the-top sequences that forgo any semblance of credibility to get a cheap laugh. Mission
not
accomplished, as most of the desperate and contrived episodes fall flat, and the talented cast is left twisting in the wind of this unfunny one-note ode to the oddity of youth circa 2009.
Instead of exploring the ramifications of his honest outburst, the film devolves into a variation of Columbus' 1987 directing debut,
Adventures in Babysitting
. In
Beth Cooper
, Beth and her best friends Cammy (Lauren London) and Treece (Lauren Storm) inexplicably accept an invitation to Denis and Rich's grad-night party, only to discover they are the only guests. With Beth's militaristic boyfriend, Kevin (Shawn Roberts), and his buds in pursuit, the cheerleading chicks grab the two hapless boys and embark on a destructive one-night-only demolition derby in which all hell breaks loose and the girl of Denis' dreams doesn't turn out to be "all that." Gee, what a shock.
Newcomer Rust has an appealing and likably nerdy quality as he ventures into territory Jason Biggs has traveled before. Carpenter is goofily appealing as his obsessed movie-quoting could-be-gay-and-doesn't-know-it-yet friend. Panettiere, playing a girl who wisely seems to realize she is peaking in high school, emerges unscathed from this enterprise. In a couple of scenes that look like they are from another movie entirely, Rust and Panettiere come off like human beings when they discuss their hopes, dreams, and ambitions. The rest of the players (including the usually amusing Alan Ruck and Cynthia Stevenson as clueless parents) are stock one-dimensional types who, thankfully, don't get much to do.
Bottom line: After 102 minutes of this nonsense, you may find yourself shouting, "I hate you, Beth Cooper!"
Genre: Comedy
Written by: Larry Doyle
Directed by: Chris Columbus
Starring: Paul Rust, Hayden Panettiere, Jack T. Carpenter, Lauren London, Lauren Storm, Shawn Roberts , Alan Ruck, Cynthia Stevenson